I've always suspected that a good cupcake could save the world. But it's nice to finally have confirmation.
I was in Chicago last February and stumbled upon Sweet Miss Giving's, a bakery in Chicago's French Market, and now a food truck (@SMGFoodTruck) that gives all of its proceeds to the Chicago House, a non-profit that helps formerly homeless and jobless people and their families. Chicago sisters, maybe you've seen it around?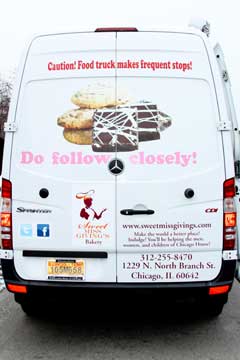 The bakery also serves as Chicago House's transitional jobs training program. Individuals who need training learn skills like baking, packaging, delivery, and customer service, thus making them more marketable candidates for jobs in the future.
You know what else they're getting? Firsthand knowledge of the therapy of handmade. So many people today, homeless or not, are craving that connection to something tangible. When we lose touch with what we can do with our own two hands, something vital in us becomes broken. Imagine being down on your luck for so long. Imagine the pride you would feel after crafting your first batch of brownies, watching a customer look 'em over, purchase one, bite into it, and break into that smile of satisfaction chocoholics know so well. It must be like magic! Like healing. Like nice.
While walking the streets of Chicago with my friend Jo Packham (www.thecreativeconnectionevent.com), I used my cell to take this pic of a sign about ice (cold, harsh) converted to nice (warm, friendly).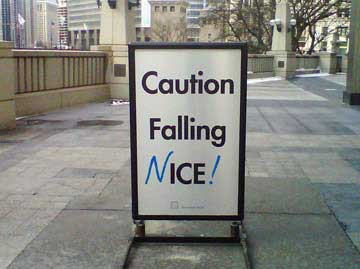 But aside from all the warm fuzzies, the goodies are all-natural and reportedly quite delicious.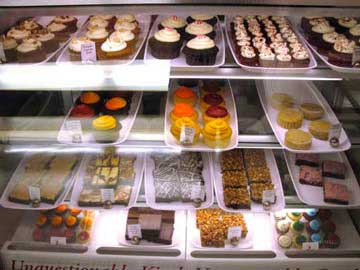 So how about it? If you live or work in Chicago, would you consider switching your regular treat to one from Sweet Miss Giving's? Have any of you experienced the saving power of handmade and sweet and nice in your life?