When Ruth Crane was undergoing treatment for breast cancer in 2008, she was determined to make the best of it, not just for herself, but for other women who found themselves in the same situation.
Dressed in a hospital gown and a bandanna, without jewelry or makeup, she realized how important little everyday adornments are to women, making them feel more attractive, positive, and "normal."
Ruth wasted no time in launching Ears to You, a non-profit effort with a small, yet meaningful, mission:
to provide earrings to women with cancer.
It may sound insignificant, but Ruth knows firsthand how inspiring a little sparkle can be. She says that a simple pair of earrings has the power to:
brighten a woman's day when she needs a little lift
create a distraction from the IV's, worries, and fears
help a woman feel more "normal" and beautiful at a time when she's adjusting to hair loss
give encouragement from someone who has been there
Ruth started the Ears to You program at Cleveland Clinic, where she was receiving chemotherapy. With the help of a friend in the jewelry business, she found an inexpensive source for earrings that were cute and fashionable as well as nickel- and lead-free.
The first day her earrings were passed out to patients was the last day of her own chemo treatment.
"What a sweet day that was!" Ruth recalls.
Ears to You is now flourishing at hospitals in Ohio, Pennsylvania, and Indiana, where earrings are passed out by nurses or social workers, and each hospital has developed a system that works for its patients. Some women will receive a new pair of earrings at each chemotherapy treatment; others may receive earrings during particularly difficult struggles or at final chemo appointments.
Since 2008, Ears to You has provided over 2,500 pairs of earrings to women undergoing chemotherapy, and Ruth hopes to expand her efforts across the country.
You can help by donating dollars or by contributing earrings to the cause. "Please send NEW earrings that are lead- and nickel-free, of any style, color, or size that you like," Ruth asks. "They can be handmade or store-bought."
Crafting earrings for a cause—how fun is that?
Gather up beads and baubles, or try something a little different:
Fashion some fishing-lure earrings, following the instructions in my Glamping book. Or, create positively cheerful pairs with erasers.
Really!
Cute colors and darling designs make erasers fun little "gems," guaranteed to bring out a smile. Plus, eraser earrings are easy as pie to put together. Make one pair, and you'll be hooked! The earrings below were made using those disposable parts of a particular type of mechanical pencil (PINK Pentel 0.9) that I use daily. I've never known what to do with them before now. I just can't bring myself to throw these away even though I've worn the eraser down to where it doesn't stick out the top any more.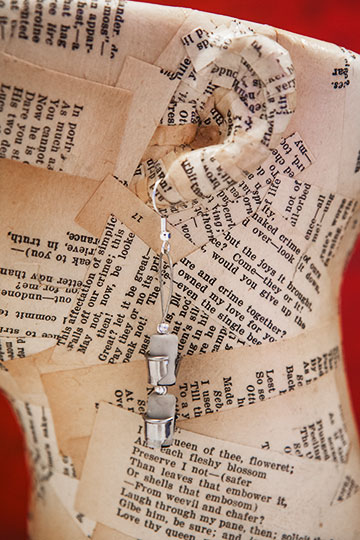 You'll Need:
Collectible erasers (Itasho is a great source for PVC-free erasers in fabulous food shapes)
French-hook earring wires
Headpins
Jewelry wire
Jewelry pliers
Here's how you do it: 
Select two matching collectible erasers. Push a headpin carefully through each eraser from bottom to top. Go slowly to make sure your headpin is aiming straight up through the top of the eraser.
Pull the headpin all the way through the eraser so that the base sits snugly against the bottom of the eraser. You will need approximately 1/4 inch of the pin exposed at the top of the eraser.
Using jewelry pliers, bend the exposed pin into a partial loop, hooking it onto the loop of a French-hook earring wire. Once hooked, use pliers to complete the loop in the headpin so that your eraser won't slip off the earring.
Make sure that the eraser hangs so that the front of the eraser is facing forward (you may have to twist the wire to adjust).
Your eraser earrings are ready to wear, and you're ready to make another pair. With so many types of erasers to choose from, your earring design options are unlimited.