You've thought about it, haven't you?
Come on, admit it …
You've wondered what it would feel like to live in an era where women wore big hats dripping in feathers.
Don't blush.
A farmgirl flaunts the fact that she feels all
aflutter
with the fanfare, fancy, and frill
of a flock she might wear that would help her step back in time.
I dare you
to divulge
that you have dreamed also …
of chickens.
Your secret is safe here.
So, let's indulge together.
If you're already a Mother Hen,
you cherish your charming clucks.
But, if you haven't yet committed to a coop,
I have found a book that will send you swooning.
One glance through the gorgeous images within, and I guarantee …
there will be a flock in your future.
Behold … The Magnificent Chicken.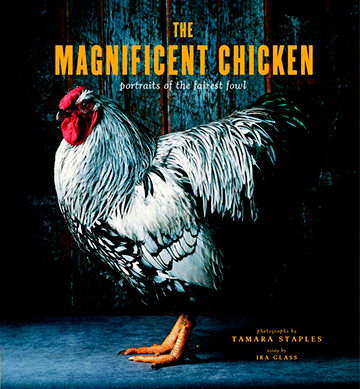 Photographer Tamara Staples first fell in love with fowl during visits with her uncle, a chicken breeder in Athens, Georgia. His birds inspired Staples to begin capturing the essence of chic on film.
"I originally started using [backdrops] you would think of with chickens: gingham, burlap, even hay," Staples said. "And one day, my assistant said he wanted to come with me. He was amazing. He showed up with all of these fabrics … and when we put them behind the chickens, it was just 'wow.' "