As I was thinking about a possible Smokey the Bear theme for decorating my new trailer (with a small trailer, you can have several different decorating themes on hand for different trips—this theme would be for traveling with my grandgirls) …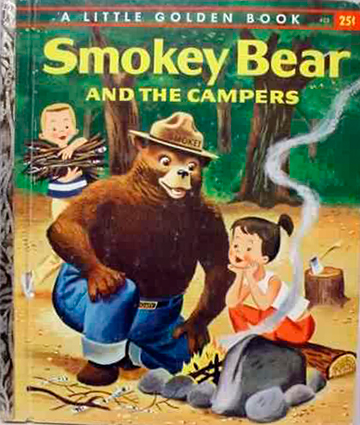 Isn't the fabric fabulous?
But the thing that really sets these bears apart from the crowd is their social consciousness.
Well, okay, it isn't exactly the bears' consciousness.
Their designer, though, has a mission as beautiful as his bears.
Brooklyn-based artist Junichi Nakane traveled throughout western Africa a couple of years ago to experience the region's cultures and forge cross-cultural friendships. While in Tireli, a village in the central plateau region of Mali, Junichi was troubled by the critical lack of clean drinking water available to the people who live there. Upon investigation, he learned that the cost of building a well in the village was far beyond the locals' means.
He returned to the U.S. with a mission to contribute to his new friends' community in an innovative way.
"I wanted to make sure that I did something creative as opposed to monetary—that's boring!" he said.
Junichi narrowed his focus to a "symbol of friendship that transcends socio-demographic lines":
the teddy bear.
He enlisted the help of a seamstress friend to incorporate the waxed pattern fabrics (batik) used daily by Malian people with fabrics from other global communities in order to fashion trend-setting teddies.
In September 2012, Junichi took 15 hand-sewn bears to a booth at the Brooklyn Flea Market, and he sold them all within two hours.
With that, Kumanokoido was born.
The name Ku-man-o-ko-i-do is Junichi Nakane's own word, a combination of kumanoko ("bear cubs" in Japanese, the artist's native language) and ido, meaning "water well."
It was a perfect fit for Junichi and his sewing crew of five, which includes his mom. The Kumanokoido crew's first goal is to raise at least $15,000 to build a well for the people of Tireli.
"As for right now, I have no intentions of making other animals because the bear is a globally accepted symbol of friendship and my project is based around that [perception]," says Junichi. "This is about how I can creatively build and maintain friendships … and in the process give something of practical use to a community of people that welcomed me."
If you would like to order a bear, visit Kumanokoido.com.