If you have a family pig out in the pen,
you may want to cover her ears.
Here's the problem:
Should farm pigs catch wind of the news I'm about to tell you,
the mud wallows of America won't seem so satisfying anymore.
And don't put it past your pastoral piggy
to swim for fairer shores …
Welcome to Pig Island.
Officially, this tropical paradise in the Bahamas is known as Big Major Cay Island, but in its residents' native tongue, it sounds more like,
"Oink, oink, snuffle, snort."
Yup, the island is populated by pigs.
While no one knows exactly how these pigs laid claim to their own private piece of hog heaven, legend has it that sailors left them on the uninhabited island as food security for future stopovers. Perhaps they were forgotten or too clever to be caught? Either way, there are now about 20 pigs on Big Major Cay, living high on the hog.
The pigs were discovered in 2007 by boat captain Jim Abernathy and his passenger, photographer Eric Cheng.
"We were in the southern Bahamas to photograph oceanic white-tip sharks," recalls Cheng. "Our captain, Jim Abernethy, heard there were pigs on Big Major, so we decided to go and check it out."
Sure enough, there were pigs a-plenty.
Upon approaching the white sandy beach, Cheng says it's easy to spot the pigs—both pink and dark brown—lying in the sand,
and they are pleased as punch to plunge into the sea.
"Because locals bring food, the pigs will run into the water and actually swim out to the oncoming boats, as if to greet them individually," Cheng explains. "It is strange enough to see pigs laying around on tropical beaches of white sand, but to see them then charge into the water to greet oncoming boats is just bizarre."
In 2010, Captain Jim Abernethy collaborated with author Jennifer Nolan to publish a children's book about the pigs called The Secret of Pig Island.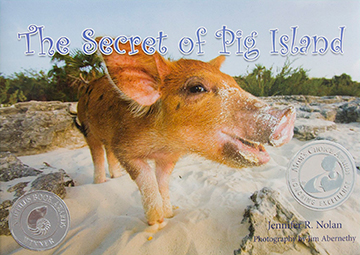 Want a live peek at the piscine piggies in action? Take a look: