g-o-i-n' to the c-h-a-p-e-l of love …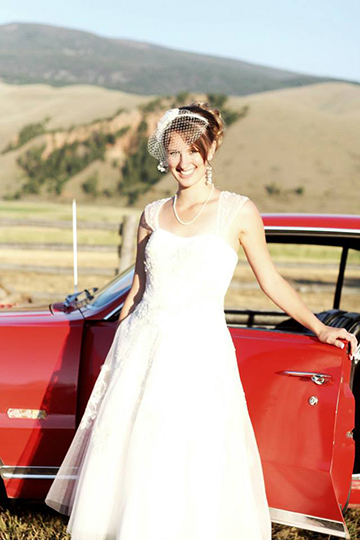 Ah, wedded bliss … or should I say wedding bliss?
The moment so many young women dream of—gorgeous groom, perfect setting … oh, and the DRESS, the dress, the dress …
Hold that thought.
What if …
the dress could be even more dreamy?
Possible?
Indeed.
Marcelia Muehlke has made it so.
When bride-to-be Marcelia couldn't find a wedding dress that married her values of human rights and environmental stewardship,
she called the whole thing off.
?!?!?!?!!!
No, no, not really.
She did, however, decide to take action on behalf of brides, workers, and the environment.
No small task.
"I wanted the white wedding dress of my dreams, but I wanted it to bring joy not only to me, but also to the people who made it," she says. "Unfortunately, there were zero good options available, and that was my 'aha' moment. I realized I could pair my background in international development and my desire to empower women in developing countries with brides in the U.S."
So, she put her MBA to good use and created Celia Grace, a company that offers hand-sewn, fair-trade wedding dresses and accessories.
"Most of our fabrics are hand woven on traditional wooden looms in rural villages. This means your wedding dress is made out of gorgeous, heirloom silk like nothing else available on the market today," Marcelia explains. "It also means that Celia Grace is putting money directly into the hands of rural women (who live far from electricity, good schools, or hospitals) so that they can keep themselves and their families healthy and strong, send their girls to school, and increase their self-confidence and respect in the community."
That dress is looking dreamier already, isn't it?
It gets better.
Marcelia says that each Celia Grace dress is tailor-made with dignity and joy by women's cooperatives. "The women love sewing such important garments and working in a safe, bright and sunny, healthy, and supportive environment. This shows in the exquisite handcrafted details on our dresses."
"I see minimizing harm to the environment and protecting and helping people as completely interrelated," Marcelia told Mother Nature News. "For example, toxic chemicals used in fabric treatments and dyes are harmful to both people and the planet. Most wedding dresses are made from energy-intensive and polluting petroleum-based polyester. Our fabric, by contrast, is natural heirloom silk grown without pesticides, colored using safe dyes, and then hand-woven into exquisite fabric on no-electricity looms."
Celia Grace is a member of the Fair Trade Federation, and it donates a water filter to a needful family for every dress sold.
Now, that's what I call bliss. "Gee, I really love you … "
Does anyone have a tissue?