Have you heard of Team Rubicon, a group that provides disaster relief? Here's a letter we received yesterday:
I just wanted to let you know that we love your product. We were on the ground in Tacloban, Philippines, 4 days after the storm hit doing relief work and setting up operations for our teams out there. Conditions that first week were challenging and extreme. We never complained, and your instant (just add water) pouches of food sure helped.
We ate the awesome Outrageous Outback Oatmeal in the mornings and fought over the Shepherd's Pie in the evening. We didn't have the luxury of taking a lot of them, but when the 15 of us were able to sit down to eat them, it was all smiles.
I have some photos of us enjoying it, if you'd like them. We'd love to stay in touch and take them with us on our next deployment. We're exploring the possibility of heading back there in the coming weeks.
Thanks!
Kirk Jackson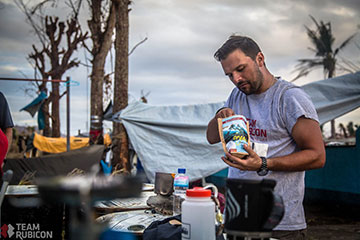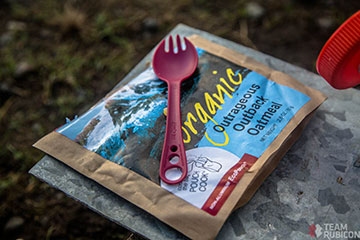 What's Team Rubicon?
"The story of Team Rubicon was written by a team of eight who travelled to Haiti to provide aid immediately after the 2010 earthquake. Today, that story is continued through the service of over 8,000 strong. The phrase "burn the boat" refers to the general, who upon landing on the enemy's shore, orders his men to burn the boats so that there is no path other than forward toward victory. From Joplin to Burma to Rockaway Beach, we've crossed the Rubicon. Now, we burn the boat."
Find out how you can support or join the team at http://www.teamrubiconusa.org.
And take a minute to watch their awesome video. Just AWESOME!