"Let yourself be silently drawn by the strange pull of what you really love. It will not lead you astray." – Rumi
Most of us are familiar with Rumi's quotes on love and life. I never tire of his visionary quotes. The fact that this poet and theologist from the 13th century has said so many things that resonate with little old me … well, intriguing. I was thrilled when the novel based on the woes of Rumi's love, The Forty Rules of Love, by Elif Shafak, was picked as our recent book club read. Not only is Elif Shafak the most widely read woman novelist in Turkey, but the story of Rumi and his love completely intrigued me.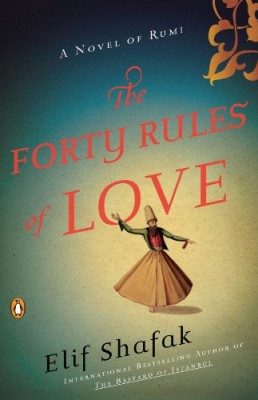 I'm always up for a novel based on an intriguing character from the past. In her novel, Shafak weaves two vastly differing narratives together. The first takes place in the 13th century when Rumi encounters his spiritual equal and wandering dervish, Shams. The book details how their relationship transpires and intertwines with the townsfolk and all of those who followed Rumi's teachings. The other is of Ella in modern-day Boston and her encounter with a far-off author, Aziz, who writes of Rumi and Shams' story. Both stories are about love and how it unfolds in unexpected ways: Rumi and his love for Shams and what Rumi is willing to do for that love … Ella and her love for Aziz and what Ella sacrifices.
I loved Rumi and Shams' story. The characters were compelling, dynamic, and believable. Ella and Aziz's story was less believable for me. That Ella—an unhappy, cheated-on housewife—decided to change her course was understandable (although permissible is another discussion). But for the worldly, spiritual Aziz to fall for her, was too far-fetched for me.
In the end, the paralleled awakenings of the characters in the novel were still worth the read, and the story of far-off lands and times and loves was so enjoyable, I happily read Shafak's novel to the finish and would read another of her works. But I hope she leaves out the modern-day tie-in next time.