My newest book, Milk Cow Kitchen, (due out June 1) is now available for pre-order from my farm's website (MaryJanesFarm.org).
It comes autographed, kissed?, and with a free Have A Cow bumper sticker (doubles as a bookmark). With 400 pages and more than 1,000 photos, I'm still in recovery mode. Holy cow, this book kicked my dairy-air.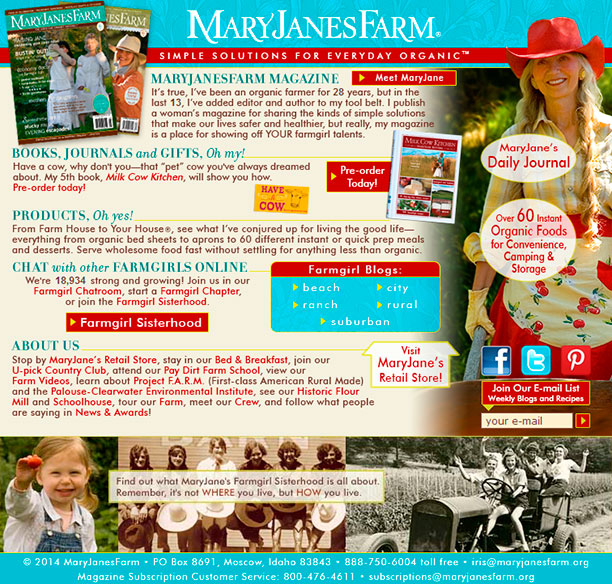 I hope you got the double meaning of sporting a Have A Cow bumper sticker on your vehicle. You know, HAVE A COW WHY DON'T YOU?! to that guy who rides your bumper.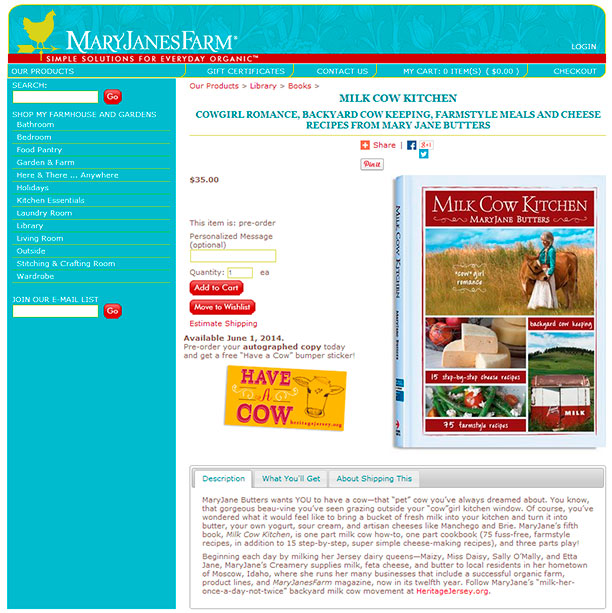 And here's the back story that goes with my book …
MaryJane Butters wants YOU to have a cow—that "pet" cow you've always dreamed about. You know, that gorgeous beau-vine you've seen grazing outside your "cow"girl kitchen window. Of course, you've wondered what it would feel like to bring a bucket of fresh milk into your kitchen and turn it into butter, your own yogurt, sour cream, and artisan cheeses like Manchego and Brie. MaryJane's fifth book, Milk Cow Kitchen, is one part milk cow how-to, one part cookbook (75 fuss-free, farmstyle recipes, in addition to 15 step-by-step, super simple cheese-making recipes), and three parts play!