I just wandered upon the most intriguing book. Only this book is not intended for mere reading. Not at all. In fact, it's enchantingly interactive, a meditative marvel for the gardener whose hands feel unproductive this time of year. I feel myself being drawn in just by looking at the cover, don't you?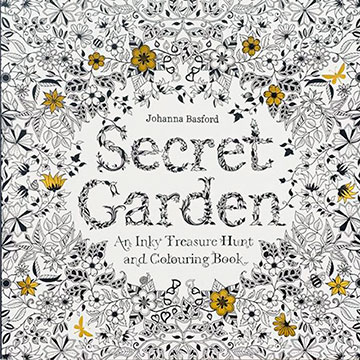 Of course, it doesn't hurt that the book's title is Secret Garden, but it is not Frances Hodgson Burnett's classic. This nouveau garden grew, page by page, in the hands of Scottish self-proclaimed "ink evangelist" Johanna Basford, who subtitled her lush botanical adventure, An Inky Treasure Hunt and Coloring Book.
"Go on a ramble through a world of secret gardens created in beautifully detailed pen-and-ink illustrations—all waiting to be brought to life through coloring, but each also sheltering all kinds of tiny creatures just waiting to be found," reads the book's back cover. "And there are also bits of the garden that still need to be completed by your hand."
Lest you dismiss Secret Garden's peek-a-boo puzzles and mind-twisting mazes and as a "kids-only" kind of undertaking, watch this:
Looks to me like more than enough twists, turns, tendrils, and tangles to keep even the most mature mind occupied throughout the cold months of the year.
Basford's work reminds me of gorgeously garden-themed Zentangles, so I can see how the two could be intertwined—a doodling farmgirl's dream! Here's another little video of the artistic author at work that is bound to inspire your own inner creative garden to flourish:
If you find yourself loving
Secret Garden
so much that you wish you could share your work with friends far and wide, extend your talents to Basford's
Secret Garden: 20 Postcards
, which can be decorated, detached, and mailed.
And, mark your calendars—I noticed that a new book by Johanna is due to be released in March of 2015, Enchanted Forest: An Inky Quest & Coloring Book. I can't wait to get lost in its wooded wonderland …