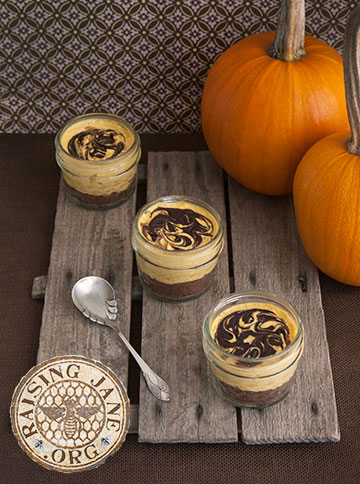 PUMPKIN CHOCOLATE CHEESECAKE JARS
PREP TIME: 45 MINUTES, PLUS 2 HOURS CHILLING
MAKES: 12 JARS
Crust:
2          cups chocolate cookie crumbs, about 9 ozs (we used Jovial Organic Crispy Cocoa Cookies)
6          T butter, melted
Filling:
12        ozs cream cheese, softened
1 1/2    cups pumpkin purée
1/2       cup sugar
1/2       t salt
1/2       t cinnamon
1/4       t nutmeg
1/8       t ground cloves
1          t vanilla
1/4       cup bittersweet chocolate chips
1. In a small bowl, combine cookie crumbs and butter; mix well. Divide crumbs evenly between twelve 4-oz jars, and press crust into the bottom of each jar (an espresso tamper works well for this).
2. In a medium bowl, add cream cheese, pumpkin, sugar, salt, cinnamon, nutmeg, ground cloves, and vanilla; blend until smooth.
3. Divide mixture evenly between jars.
4. Melt chocolate and add a little chocolate to each jar, swirling around with toothpicks as you work.
5. Chill for 2 hours before serving.
Gather ingredients.