Amid the hubbub of our modern must-do-it-all lifestyles, there's a longing that lingers for simpler schedules and down-home happiness. You know the feeling. I find it necessary to surround myself with little reminders—a rustic framed picture of a frontier woman here, an old cast-iron kitchen tool there. More than a collection of matching frills, they help me keep in touch with my inner farmgirl when the world around me is going a bit bonkers.
One of the most quintessential symbols of sweet and peaceful settings is the …
… picket fence.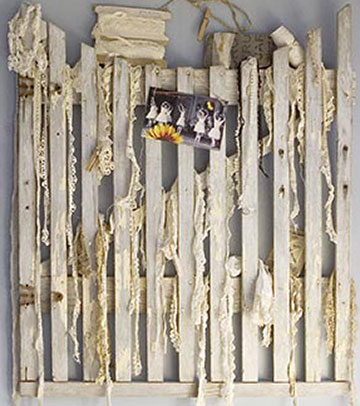 We're talking Americana at its finest, from rural outposts to close-knit communities. Picture a picket fence or better yet, a picket fence gate, and I bet you'll find yourself feeling welcome, wholesome, and safe. There's something about bordering one's place with a picket fence that says "this is my haven" without being boorish or exclusive. Come on in, it beckons, make time to talk over tea and biscuits.
Given the good vibes and undeniable nostalgia of a simple whitewashed wooden fence, it seems a natural addition to the environs of a farmgirl who finds herself in need of some old-fashioned nurturing. No need for a farm house or even a yard. Today's picket fence needn't delineate a property boundary.
To keep your fence close by as a gentle reminder of the virtues of seeking moments of slow-down solitude, a picket fence bulletin board can be your own small slice of picketed paradise. I hang photos, dried flowers, lace, hankies, and other pretties that inspire me on mine. I'm always on the hunt for handmade lace of any length. My picket fence bulletin board is the perfect backdrop for displaying my latest precious finds. It cues me to remember what matters most.