There's something pretty simple I didn't have until this year—something that you probably take for granted.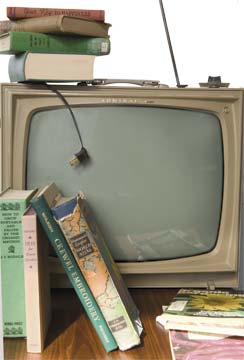 A television.
Can you imagine your world without one? Seeing as I didn't even have an indoor toilet until last year, I figured a TV was rock bottom on my list of priorities. I caved at the beginning of this year (okay—my husband Nick MADE me cave), and since then I've been making up for lost time.
I'm lovin' the way TV is connecting me to more information, more laughs, a broader world-view, and a network of educated opinions that I'd otherwise go without.
But making up for lost time doesn't mean wasting it. I've long been a proponent of keeping television in its place, and that hasn't changed.
Well, not too much.
I'm learning that keeping it in its place means two things: not watching too much, and watching the right kind.
The type of TV I watch is just as important as how much. I've decided to pay attention to the way different programming makes me feel.
I steer clear of news stations with incendiary pundits who seek to incite conflict or anger (you know the ones). Instead, I seek out the channels that present facts and events in a broader context and alert me to international events outside my immediate sphere. Then there are certain kinds of reality shows that profit from the shame of others. Sadly, these programs are all too common, and they wouldn't be if we voted with our remotes. I don't want to feed into a culture that's riveted by self-destructive and amused by the unfortunate or misguided.
I'm willing to bet that, deep down, you already know how to differentiate between "organic" television and "junk" TV. But just in case your senses have been dulled by the tube's consistent glow, take my simple quiz (that I devised for moi).
Answering "yes" to the following questions indicates bad TV:
Do I enjoy seeing this program because the dysfunctional characters make me feel better about my own life?
Does this program make me feel angry about the state of the world?
Does this show make me feel pessimistic about human nature and my fellow man?
Does this station only offer me bad news?
Do I feel irritable or powerless after watching this?
Even one yes is a red flag. It's an enormous, wildly waving, fire-engine red flag accompanied by blaring horns. The programming at hand isn't good for you. It doesn't feed your soul, it doesn't educate you in a constructive way, and it is a profound waste of time and energy.
But answering "yes" to the following questions indicates keeper TV:
Does this show inspire me to do some good for myself or others?
Does this program give me a sense of hope or wonder about other people?
Do I feel refreshed, empowered, or upbeat after watching this?
Does this show expose me to new opinions and viewpoints—has it made me think?
Does this show make me laugh—without making me bitter at the same time?
Yes to my keeper TV questions is a sign of "organic" television. It uses my time well and leaves me better off than I was beforehand.
And I've told myself I mustn't forget the very best TV viewing option: OFF.