Here's a lovely little novel which, despite being called The Summer Book, should be savored as soon as possible—no matter the time of year.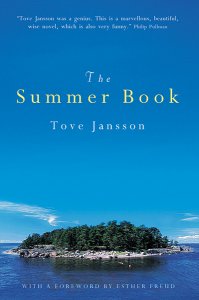 Originally published in Swedish, The Summer Book by Tove Jansson takes place on a small island in the Gulf of Finland where 6-year-old Sophia and her grandmother spend summertime exploring rocky shores and "magic" moss-carpeted forests. Grandmother, though unsentimental and prone to grumpiness, follows her impulsive granddaughter's whims, and together they build bark boats, invent stories of bugs, spy on a dubious new neighbor, and construct a miniature model of Venice from marsh reeds. Each moving at her own pace, both young Sophia and her aging Grandmother discover simple secrets in nature's details that make it possible to embrace life and weather its storms.
Okay, so you know I can relate. This book reminds me of meandering about the farm, from chicken coop to garden to peony patch, with Stella. Always full of questions, my curious grandkid ends up teaching me as much (even more??) than I offer her with my answers about the world.