Ready for a revolution?!?
Grab your pots, pans, and plates, ladies … May 19 is Food Revolution Day!
Organized by the Jamie Oliver Foundation (You remember Jamie, right? That cutie-pie British fella formerly known as "The Naked Chef" …?), Food Revolution Day celebrates the chance to share your food knowledge, know-how, resources, and recipes.
Your mission in this revolution? To get back to basics or, as Jamie puts it, to stand up for real food.
And, most importantly, to help others discover the joys of healthy, fresh food choices.
If I know my farmgirls, you gals are all over this one already.
Inspiring change and living healthy … that's kind of our thing, right?!
So, ready to revolutionize??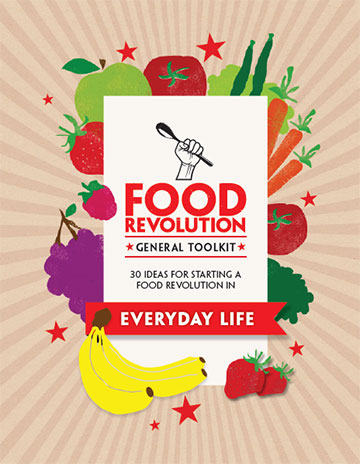 The Food Revolution (www.foodrevolutionday.com) website has all kinds of ideas, lists, recipes, and other helpful tools for you to use to organize your own revolution. Or, just enter your zip code and find an event in your area.
Dying to dazzle your friends with your mad culinary skills?! Well, this is the day to do it.
Host a dinner party at home, organize a potluck at work, attend or teach a cooking class, or share your favorite recipe or some goodies from your garden.
Remember—the key is to promote locally sourced, fresh, and healthy ingredients.
No processed foods? No problem!
Here's some news that knocks my socks off … statistics show that kids now are the third generation who won't know how to cook, and 42 million children under the age of 5 are already grappling with obesity.
Now, that's a problem.
The good news is that kids who are educated about healthy foods tend to have healthier habits as they grow up, and good folks like Jamie are working hard to get food education back in schools.
As a part of your Food Revolution, why not ask your child's school about their curriculum for food education, or what steps they've taken to bring fresh foods into their lunch program? If you're not sure how to do this, the Food Revolution website has a downloadable booklet loaded with advice.
Just like very grassroots revolution, the Food Revolution will happen through people who care.
In other words—us.
So, talk it up, girls. Let's spread the word about what we already know … good, healthy food means a good, healthy life!