Oooo, little spider. You creep me out. But dang, aren't you beautiful?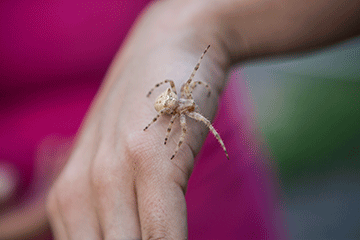 While the milk barn was getting its daily scrub-down yesterday, this spider meowed and stuck out one of its eight legs to say, "Hello, I'm …
Okay,  it didn't really meow. With eye-like markings and "ears" that protrude from its back, it's aptly named a "cat-faced spider."  (That reminds me of a Cher quote. Someone once asked her about cosmetic surgery. She replied, "If I want to put boobs on my back, I will.")
Okay, "back" to our spider. It sure made a grand ma'am entrance into our routine lives.
Here's another photo we took that says it all: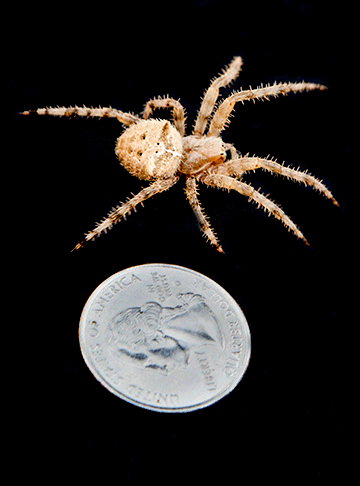 Is your heart racing yet? Relax, cat-faced spiders are harmless to humans.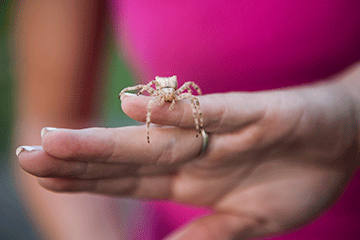 Of course, Ace and Louise freaked out a couple of our more delicate farmhands (clearly arachnophobic types with names like Carol and Sandi).
But a little farm mischief is a good thing because we've been putting in long hours the last couple of days. You'd think that after 11 years of magazine deadlines, we'd know to look at a calendar every now and then. So little time. So much ado about DO NOW. What's a girl to do? 
Play with a spider.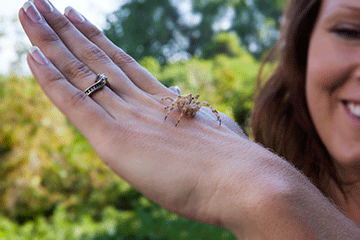 "You have been my friend. That in itself is a tremendous thing. I wove my webs for you because I liked you. After all, what's a life, anyway? We're born, we live a little while, we die. A spider's life can't help being something of a mess, with all this trapping and eating flies. By helping you, perhaps I was trying to lift up my life a trifle. Heaven knows anyone's life can stand a little of that."
― E.B. White, Charlotte's Web