The weather around here has been topping out at 98 degrees. And we're not talking about the late '90s boy band, though they'd match my fever pitch right now. 
(I know, I know, I have no room to complain when the midwest is hitting 118!)
After my crew and I finished my glamping book, my daughter surprised all of them with a gift certificate for a pedicure but I guess she didn't think I'd want one. I took it as a sure sign I should follow suit when I received an unexpected package of sample polish last week from Chick Nail Polish.
I called around town and found someone who could give me a proper pedicure, something I haven't indulged in for a couple of years. Who doesn't want to sit inside an air-conditioned room and get a lil' pampered?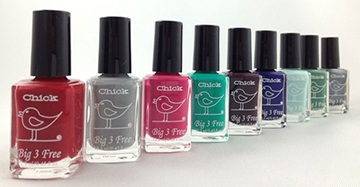 We featured Chick Nail Polish in the last issue of the magazine. And guess what? They are Big-3 free. 
Here's how they explain it:
"Big-3 free means that our lacquers are as natural as they can be and do not contain formaldehyde, toluene, or dibutyl phthalate (DBP). Nail polish is notorious for containing the "toxic trio". Not only are you breathing in their funky fumes when you polish your nails, you're also putting harmful toxins in direct contact with your body's biggest organ—your skin. Chick is a nontoxic, vegan-friendly nail polish line that comes in a super-cute color palette with names like Hen House and Wild Rooster."
So, I grabbed their bottle of "Wild Rooster" and took my little piggies to market.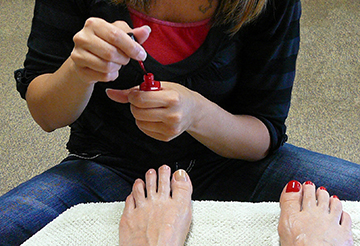 Cocka-doodle-dreamy! Toe-tastic! There was no icky nail polish scent for me or my pedicurist. And knowing my toesies were supporting something more safe for the world was the shine to my polish. So here I am, just out of the hen-house crowing at 5 a.m., excited, and looking down at … strawberries on my toes? Well, that's what my chickens must be thinking because they keep pecking at them. Or maybe what we have here is another case of a hen-pecked rooster. Nah, I know my hens are smart but they can't read nail polish labels. Yet.
Maybe …
Okay, I'll stop now. It's early.
Scritch, scritch, scritch.
Bwak, bwak, bwak.
Buk, buk, buk, buk, ba-raaaaawk.
Wanna help me lose some guilt this morning?
Tell me I'm not the only one that feeds my hens fig newtons for breakfast. Or (need a good laugh?), a plate full of cooked plain spaghetti noodles.