There's no point in beating around the bush …
Or the Christmas tree, as the case may be.
Holiday shopping is looming on the horizon.
You're seeing it, too, aren't you?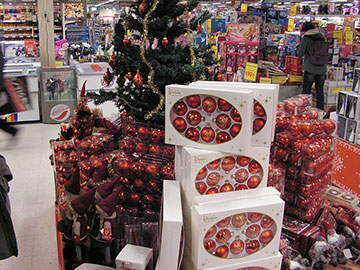 Don't panic … stay with me.
I just found something nifty!
It's called Designed Good, and I'm already loving the idea.
Instead of burying you under the same old yearly stress this shopping season, Designed Good might just give you a boost.
This cool online store-with-more, created by a couple of groovy college grads, is a purveyor of trend-setting products that are not only well made, but good for the world to boot.
Good … how?
"All the products that we sell are either made sustainably, enable people to live their lives more sustainably, incorporate strong messages of social responsibility, or have a built-in financial model for giving back to people or causes," explains co-founder Katy Gathright.
Katy and the others at Designed Good came up with the concept that well-designed products can be an exciting new avenue for making a difference.
In addition to social and environmental benefits, the Designed Good team also emphasizes good product design.
"Design includes how well a product is made and how long it lasts as a result. It also includes whether its creators have put some impressive thought into how their product is a solution—whether that be a solution to all the blank wall space in your apartment or your tendency to buy single-use plastic water bottles at the grocery store. There are so many talented designers and artists and craftsmen who have come up with great ways to make things; part of the fun we have is constantly adapting our definition of good design because we're constantly surprised and impressed."
They decided to make their site a membership-based community for—you guessed it—the greater good.
"We want people to feel like they've chosen to hang out at Designed Good, and we like knowing who our audience is—not in a creepy way, but in a way where we can look at our demographics and think about what kinds of products and stories will appeal to them most."
(So, don't be intimidated by the membership thing. It's free, and all you have to provide is your e-mail address to join the club.)
Members can expect to find stuff like clothing, accessories, gear, gadgets, and artwork. Some products may be socially-conscious on a number of levels.
"Our first products, for example, are these photographic prints taken by refugee girls in Haiti. The photographs are beautiful, and they are coming out of this Center for the Arts program in Port-au-Prince that empowers young women with self-expression and the chance to earn an income through their photography," Katy told Culture-ist Magazine.
Their product line is refreshed regularly, increasing the chances that you will find the perfect "something" for everyone on your Christmas list.