When it comes to unconditional adoration, nobody does it better than our pets. That's why most of us just can't leave the lil' critters out of holiday gift giving. But there are better ways to thank your pet than with a mass-produced toy made who-knows-where or a store-bought treat full of who-knows-what. Nothing says love like homemade—and even the furriest and most feathered among us will notice the difference.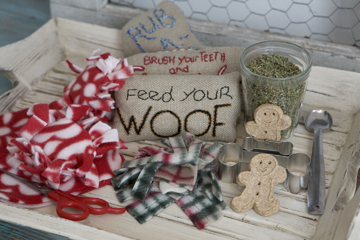 Dogs
No doubt, right about now you're seeing rawhides in every size, shape, and artificial color. But with questionable ingredients and the inevitable rawhide-swallowing incident that I promise will have you at the vet's by New Year's, why not bake your own treats?
For the veggie lovin' pup who likes to keep his chompers busy, make some sweet potato chews. Using a mandoline or a very sharp knife, cut long, 1/2-inch thick slices of sweet potato. Lay them on a parchment lined cookie sheet and bake for about 3 1/2 hours at 250 degrees F, flipping halfway. They're done when they're shriveled and tough, with curled edges. Cool on a wire rack and store in a covered container in the refrigerator for three to four weeks.
But I hear ya'—sometimes nothing less than cookies will do. Try your hand at a batch of peanut butter biscuits that are as simple as counting to four. Preheat the oven at 350 degrees F, then mix one part peanut butter, two parts old-fashioned oats, three parts hot water, and four parts whole-wheat flour. Knead well, adding more flour to sticky dough or more water to crumbly dough. Roll out on a floured surface and cut into bones, hydrants, squirrels—you get the idea. Or make them like "people" cookies by flattening balls of dough. Bake on a parchment-lined sheet for 30-45 minutes, until golden and browned around the edges.
Let the cookies cool and harden for several hours before "serving." Pack in an airtight container and store at room temperature for a week, or in the freezer for several months. Remember, peanuts should be the only ingredient in your peanut butter—oil, sugar, and salt are problematic. If you prefer, swap in other flours, like rice or barley, instead of wheat.
Cats
Even chubby, lazy, and lasagna-obsessed felines still think of themselves as kings of the jungle. Catnip "prey" will fuel their wishful thinking. These toys are easy to make and cheap.
Cut 6-inch squares of scrap fleece, allowing 2 squares per toy. For one toy, stack two squares together and use a sharp pair of scissors to cut 1/2-inch wide and 2 inch long fringe strands around all four sides, leaving four discarded corner squares of fleece to use as filler material. Start tying each piece of fringe into a knot with its mate on the other square, completing all four sides but leaving an inch or two open for inserting the filler. Wrap a heaping teaspoon of catnip in a small square of cheesecloth and sandwich it in between the squares of filler. Pack into the toy. Then finish tying the fringe. Store in an airtight container in a dark closet to preserve potency until you're ready to gift them.
Chickens
Anyone who owns chickens knows they're as treat-obsessed as they are charming. And the holidays are as good a reason as any to thank your hardworking hens for a year of heavenly quiche. Call me crazy, but—why not bake 'em a cake?
In a bowl, blend one cup each of freeze-dried mealworms, wheat berries, wild birdseed, raisins, ground flaxseed, sunflower seeds, and oats. Then mix in three beaten eggs, 1/2 cup peanut butter, and two slices wet bread to bind the mixture. It should hold into firm clumps when you squeeze handfuls of it, but if it doesn't, add an extra egg. Pack the mixture into a parchment-lined casserole dish and bake at 300 degrees F until the edges brown, usually 1 1/2 hours. Let cool and then cut or break into chunks. Move the pieces into airtight containers and keep them stored in the refrigerator for up to a week, or in the freezer for several months. These treats are tasty and nutritious, but they'll also eliminate the boredom that causes hens to peck at their eggs or at each other. For an extra special treat on a cold day, drop a few chunks into a pot, add a little water, and cook over low heat, stirring until it's the texture of thick oatmeal. Serve while still warm but stand back and tighten the stampede strap on your hat!