The debate has been raging for decades of Decembers:
Real or artificial?
I'm talking trees, of course.
In one camp, you have the hearty, saw-slinging lumberjacks (and Jills) that relish the opportunity to strike out into the snowy woods …
(or tree farm)
to cut down a live fir for the holiday festivities …
On the other end of the spectrum, there are the urban-oriented pragmatists who figure that the one-time purchase of a lushly-limbed artificial tree will not only save them a trip to the cold and prickly wilds,
it assures them that they will be punctually prepared for years to come,
leaving more time for shopping, shindigs, and sundry stresses that seem requisite to the modern holiday season.
One less item on the list.
Christmas tree?
Check!
But, wait …
What if I told you that, this year, there is another candidate?
Yes, unlike the recent presidential election, there is a viable third option when it comes to our iconic Christmas centerpiece.
Let's say you're appalled by the thought of PVC pine,
and yet you feel a twinge of guilt about taking the life of a tree for such trivialities as tinsel and toys.
Well, this may just be the idea you've been waiting for:
A LIVING TREE!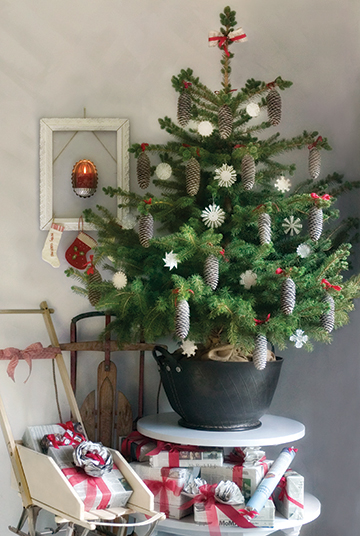 No, you don't have to plant a seedling and wait years for it to grow (your grandkids would likely be off to college first).
I'm talking about a full-sized potted tree that is delivered to your door and …
get this:
picked up after Christmas.
All you have to do is decorate it!
This new concept is something like a twist on party supply rental companies. It's simple: rent a living tree, and celebrate the fact that it is destined for planting after Christmas has passed.
How green is that?
It may take some digging to find a living tree supplier in your area, but the idea will no doubt begin branching out across the country in years to come. In the meantime, here are a few companies on the west coast that are blazing the trail:
FYI, the pic of the tree above was featured on the front cover of my magazine two years ago and to this day is growing in one of my fields.