Flashback Monday! I ran across something from a few years ago and thought you might enjoy reading it again. I know I did. It's such a magical story about synchronicity …
This just in from Carol Hill, my BFF, lead graphic designer, MaryJanesFarm magazine editor, fashionista, ukelele player, Northwest Best Laugh Contest winner …
Take it away, Carol!!!!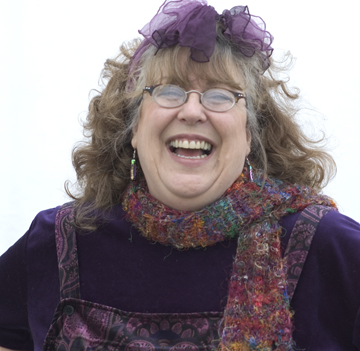 In our Aug/Sept 2010 issue, "Lay of the Land," we published a story from Aimee Steiner, a MaryJanesFarm reader living—of all places—on a tiny, remote Pacific island named Rota. At the time, we were astounded that our magazine had reached such faraway places. But the story had just begun.
Not only did that article result in our readers sending over 10,000 books to rebuild Rota's library that was lost in a typhoon (read that incredible story in our Dec/Jan 2012 issue, "Come All Ye"), but it also sparked another reader to call with this fascinating story …
Seas of Destiny?
A synchronistic event occurs when we recognize similarities in two or more apparently unrelated incidents. Author Ashok Bedi (Path to the Soul) says, "The soul often whispers to us through synchronistic events," and that these events can be a powerful "heads-up," calling us to pay attention.
Richard Burns recently received his heads-up courtesy of MaryJanesFarm. When he phoned the farm and asked for 10 minutes of Meggie's time to tell a story that might interest us, she was intrigued.
The story begins in 1962. While Burns was enrolled in a Spanish class in Jacksonville, Florida, his teacher sent the class to the nearby docks to practice their newly learned second language on the crew of a Spanish navy boat, the Juan Sebastián de Elcano.
Fast forward 25 years. While researching oil paintings for his wife, Burns met an artist with a room full of painted canvases. Asked if he'd like to see the painter's favorite, Burns was surprised to see a painting of the ship he'd spent the day on those many years prior, the Juan Sebastián de Elcano.
Nearly another 20 years passed until, in 2007, Burns helped a friend sort and catalog the hundreds of plastic models and figurines in his collection. After they categorized all 500, they were left with a single ship. As he turned it over to look for markings, he saw its name: the Juan Sebastián de Elcano.
This summer, while visiting Washington State with his wife, our magazine caught Burns' eye. The "Invest in Happy Cows" cover line prompted him to pick it up from the hardware store newsstand and purchase it. But Aimee Steiner's story about rebuilding a bookstore in the wake of a typhoon on the tiny Pacific island of Rota was the article that held his interest. Having never heard of Rota, Burns did a little Internet research … only to find that the first European to set foot on Rota, in 1524, was the Spanish navigator Juan Sebastián de Elcano.
We published Richard's story in our Oct/Nov 2010 issue, "Attitude of Gratitude," shaking our heads at the wild coincidence. But the story still wasn't over. During our Christmas break, I had a friend visit from California. Tucked into the many little gifts she brought were a stack of old postcards, since she knew I had a cache of cards for crafting projects. One was of the Sydney harbor from her travels to Australia.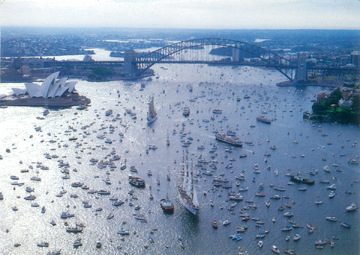 When I turned the card over to read about the scene, I was bowled over to find the following inscription:
SYDNEY
January, 1988
The 'Dar Mlodziezy' from Poland leads
Spain's 'Juan Sebastián de Elcano'
out of Sydney during the Parade of Sail.
 Serious synchronicity!