Flu season is upon us! If you've started the sniffling, sore throat, save-me-from-the-cold-sweats this winter, you'll have to tough it out, but a neti pot can be your saving grace. It helps prevent colds by flushing out the cilia in the nostrils that hold onto the bad nasties you might inhale.
Most colds are acquired through the nostrils. Touching one's nose and face transfers the bacteria, where it finds the perfect place to breed and wage war in your mucus membranes. I can't begin to count the times my little friend, Neti, has saved me on my travels. From breathing shared airplane air to community taxi cabs and subways, there are plenty of places to acquire nasty germs.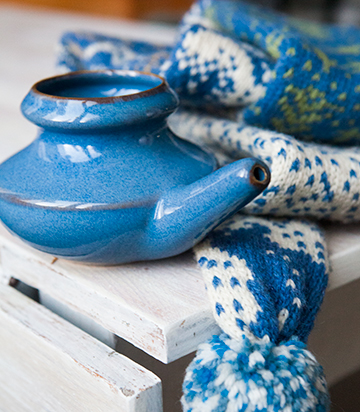 So, when you're feeling a little under the weather, get over it with a neti pot. (Please note: always use distilled water.) You can sing this little ditty while you do. Oh, and I should mention, neti pots are best used in the privacy of your own bathroom. Though it's called muc-US, keep it a me, myself, and I activity.
I'm a little neti pot, short and stout.
Here is my handle, here is my spout.
When you get all stopped up in the snout
Tip me over to get the gunk out!
Click here to buy yours on Amazon.