There's a craze sweeping the countryside that combines two of the things we love most:
food and friends …
and not necessarily in that order.
The brain-child of five food-lovin' ladies, Food Swap Network is a growing work of gustatory genius.
So … what's a food swap?
According to mastermind Kate Payne and her cronies,
"A food swap is a recurring event where members of a community share homemade, homegrown, or foraged foods with each other. Swaps allow direct trades to take place between attendees, e.g., a loaf of bread for a jar of pickles or a half-dozen backyard eggs. Swap events also include a potluck as an immediate food-sharing (and sometimes item-sampling) component. These events are a delicious way to diversify the homemade foods in your own pantry while getting to know members of your local food community."
The Food Swap Network website is set up to make swapping a snap. There may already be a swap meet in your area—a quick search on the website's home page will confirm. If so, get in touch with your local swappers to sign up for their next event.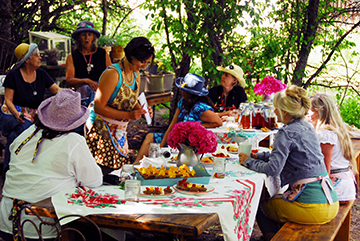 Swaps usually last about two hours and go something like this:
• The first 30 minutes of the swap are devoted to sign-in, set-up, and greetings. Swappers fill out name tags and swap sheets and set up their wares on the tables.
• The next 30 minutes to an hour are for everyone to walk around, examine, and sample items from other swappers. Swappers will write their names and items they brought on the sheets for any items they would like to take home.
• The final 30 minutes are when all the swapping actually happens. Everyone goes back to his or her original sheets of paper, looks at the offers, finds interested offerers via their name tags, and swaps.
If you can't find a swap nearby, start one! Food Swap Network recommends that you find a friend or two who will share planning and hosting duties, and then spread the word like wildfire around town and online so that attendees can connect before and after your events. Find more great tips for hosting your own swap here.