Now that you've read my book, Glamping with MaryJane, you need to find a fabulous place to get your glam campin' on.
And so, we're back for a third day of where to glamp in 2013. Wandering the Sunshine State in search of a Silver Bullet to rest your head?
Look no further than Silver Bullet Retreats.
Silver Bullet Retreats
Florida

Ever wanted to hook up without the commitment? Silver Bullet Retreats has your back. Pick a Central Florida campground, with full hookups, and they'll do the leg work.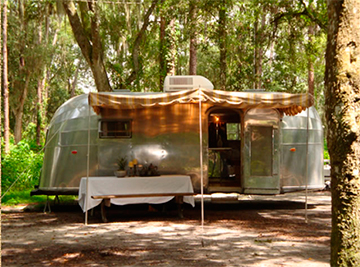 They'll tow in one of their dreamy, professionally decorated vintage Airstreams, set it up (oh yeah!), and after a quick orientation, all you have to do is sit back and get your glam on. While there, you can also visit these parks for free, that means no additional fee from Silver Bullet Retreats (you'll still have to pay a park fee) including:
Fort Desoto
Hillsborough River State Park
Lake Manatee State Park
Little Manatee River State Park
Alafia River State Park
With a minimal charge for distance, you can also visit.
Chassahowitzka River Campground ($125 extra)
Disney's Fort Wilderness Campground ($150 extra)
Lake Kissimmee State Park ($100 extra)
Myakka State Park ($100 extra)
Oscar Scherer State Park ($100 extra)
So pack up the kids and give 'em a trip in a Land Yacht they'll never forget. Take a trip down memory lane to a time of nostalgia—fly a kite, play board games, walk the trails, help 'em build a fort. I'd suggest leaving the electronics at home, but if you don't, go on a Geocaching treasure hunt. But leave Fido at home. Help preserve these trailers so they'll be around for another 50 years.