Now that you've read my book, Glamping with MaryJane, you need to find a fabulous place to get your glam campin' on.
And so, we're back for a 4th day of where to glamp in 2013. Ready to sink your teeth into a sweet Georgie treetop campout?
Dancing with the Trees
Georgia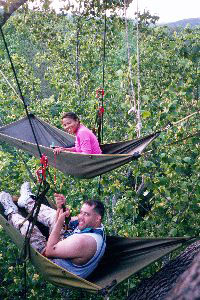 Take in the sights and heights from the top of a canopy. Feel the wonder of safely cresting the top of a branch and snuggling like a leopard into your snug "tree boat." Dancing with the Trees will give you an unforgettable experience:
Each guest/climber stays attached to a harness and climbing rope throughout the experience while spending a peaceful night cradled in the arms of a tree. The next morning, enjoy a continental breakfast … in the trees! Then there's a chance for more climbing.