What were my son Brian, SIL Lucas, and the guys from our food facility hauling onto the second floor of our building yesterday?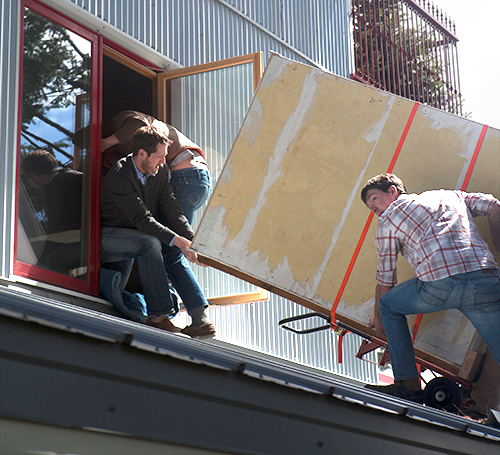 Why, my very own crafting …
bed!
Years ago, I found a gorgeous brass bed in an antique store, but when I got it home to put into one of my B & B units, it was an odd size. Sized in between a twin and a double bed, I couldn't find a mattress to fit it. Planter box? Nah, too gorgeous to be outside. As I was finishing up my new Pay Dirt Farm School classroom where I plan to teach sewing classes, I thought, "Why not turn it into a crafting table on wheels?"
Right after it was put into place (it wouldn't fit up the staircase—the reason my husband lifted it with the tractor to the height of our guys waiting on the roof), we received an order for a pair of our Raising Jane knickers. So Saralou, our resident seamstress, crafter, and graphic designer, gave my idea a test run.
I figure a bed is all about dreams, right? I dream a world in which I teach dozens of young women the joy of sewing, including my grandgirls. How and when did you learn to sew?