Of course I dream of Paris. Don't most of us? I can see myself outside a café at a little table, sipping something lovely coupled with a delicious pastry.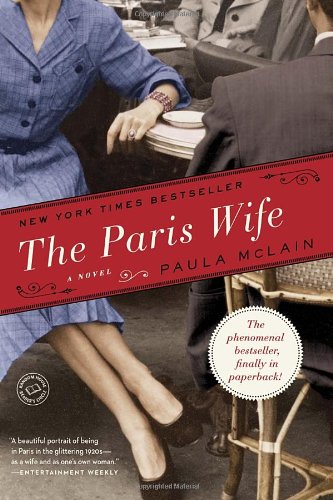 The cover itself of The Paris Wife by Paula McLain appealed to me. I'm quite intrigued with Ernest Hemingway and who he was and how he lived his life and wrote his novels. But to hear this all from a woman's perspective sounded even more enthralling.
And it was. McLain paints a romantic picture of the heroine, Hadley Richardson, and the six years she and Ernest Hemingway were married. They were married from 1921 to 1927 and spent much of it in Paris, but it was not romantic in the sense you might imagine but more the unstable, messy kind of way.
In fact, there was none of the sitting in little cafés and drinking delicate drinks for Hadley. Hadley and Ernest were quite poor and struggled to find common ground. As Hadley spent much of her time trying to define things from their tiny little flats or various rentals on their gamut of travels, Ernest spent his time in a fast and furious search for definition. The scene is very contrasting to one you might imagine as newlyweds living in Paris. While Hadley seemed to feel they had all the romance two people need, Ernest continued to search and he left a lot of folks in his wake.
The story of Hadley's Paris flows nicely because it's from the perspective of a character who was quite unassuming but caught in a fairly complex era of big-name writers and complicated personalities, including that of her own husband's. Hadley's portrayal of her fellow characters is not shadowed by her own biases. It is great fun for the reader to catch glimpses of what these writers lives were like before … before they really became important and back when they only thought they were.