Capturing our photos-of-the-day is always an adventure. Three of us, Ace, Karina, and myself, somehow manage to find a few minutes each day for a quick snap here and there around the farm. Ace's recent dandelion photo was a real dandy taken entirely on the fly.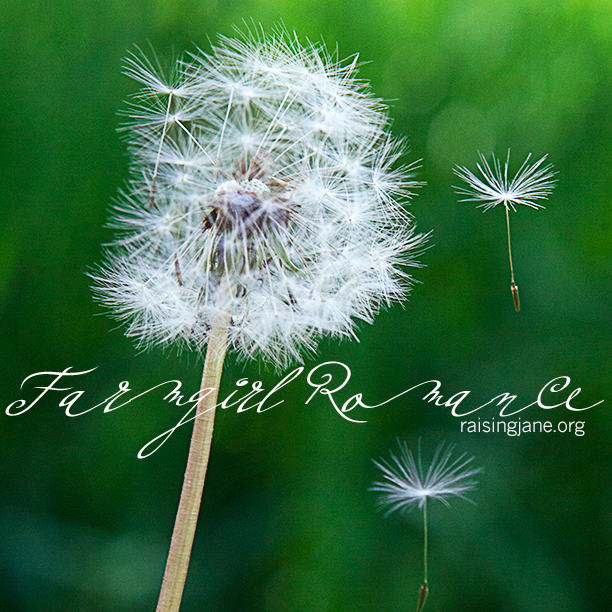 Karen England
says:
I don't think I told you, but I sure told everyone else and now I'll tell you that I think this photo is an award winner if there ever was one. Bravo! I love getting Raising Jane blog new posts alerts in my inbox and, that this photo is in the gratitude section of the blog, seems a fitting place for me to say thank you for blogging! …Carry on.
As I was flying by Ace, stopped on one of our many pathways, I saw her (in between campfire food photos for our next magazine) tossing dandelion fluff into the air and then aiming her camera into the direction of what was raining down. I wondered what she was up to. Later that evening, when I sat down to conjure up a post for the next day, I put two and two together when I saw her photo waiting for me in our Raising Jane media library.
Karina's photo of today's teacups turned into yet another photo-of-the-day … along with giving her a fright. She had wandered up to our pond to stage a photo with some of our more delicate, vintage teacups on the pond dock (the glistening water makes a great backdrop sometimes) when something huge and hairy (and breathing hard) thundered into the pond right next to her, making a HUGE cannonball splash.
An adorable Bullwinkle it wasn't.
Remaining somewhat composed, even though her heart was about to stop, she carefully gathered up the teacups (somehow managing not to break them) and ran into one of our nearby B & B wall tents. After catching her breath and quieting her shaking hands (and staying back a safe distance), she snuck back out for a few photos of a totally drenched moose at play.
If Moose could talk, I'm sure this one would have said as he galloped by, "Hey, Karina, watch this!"