Did you ever have one of those cardboard kitchen sets as a kid?
Or, maybe your mother helped you make a simply splendid cardboard cottage …
My siblings and I were famous for fashioning elaborate forts out of boxes and blankets (yeah, I might have slipped a doily or two into our DIY décor!).
No matter what you constructed with cardboard, it was fabulous, wasn't it?
Sturdy, stylish, and real.
So, here's a point to ponder:
Would you furnish your home with cardboard today?
Here's a pic of my husband's side "desk." It sits right next to his real desk and is the place where he sorts orders every morning. When I've offered to replace it with something more "officey-looking," he gives me that look and says, "Why do that when I have so many boxes coming and going?"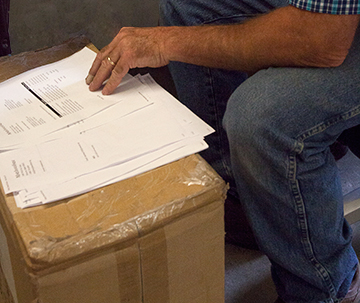 Zach Rotholz is willing to bet that grownups are still as game as my husband is.
In the photo above, Zach is perched on one of his creations, collectively known as Chairgami.
"I have a long love affair with cardboard. I began by playing in large refrigerator boxes and teaching children in Central Park to engineer with cardboard. Later, I was a cardboard apprentice at Adaptive Design and designed equipment for disabled children," Zach explains. "This evolved into a senior project in mechanical engineering and then into a pop-up storefront in New Haven, Connecticut."
The concept is as simple as it sounds.
Chairgami makes tables, chairs, bookshelves—even an iPhone case—out of Triple Wall, a three-ply corrugated board that is "tough yet forgiving." The chairs will last about a year, according to Co.Exist, while the tables can make it up to four years. Fortunately, the pieces are pretty affordable, and they're easy on the earth—no glues or plastic fasteners required, and the board is made from recycled and FSC-certified fibers.
Crazy?
From a mother's perspective, it may sound a bit bonkers when you consider the inevitability of sippy-cup spills, grubby paws, and the occasional tantrum …
but Zach Rotholz is convinced there are plenty of other people who will opt to "play house" in order to help protect the planet.
"I'm ready to save the world," he says, "One cardboard chair at a time."