How about a Christmas tree that's roughly four feet tall, perfectly symmetrical, and very much alive? In late September, my local nursery puts their trees on clearance, so that's when I usually adopt my soon-to-be Christmas tree for around $60. Some years there's another local endeavor selling live trees for $125 but not this year.
My feelings are identical to the way I felt when my parents let me pick out a puppy or choose from a litter of kittens. This one! Its roots are securely tucked into a root ball covered in burlap. Each year, I bring a tree home and carefully and routinely water it until I can get it planted, usually in March sometime.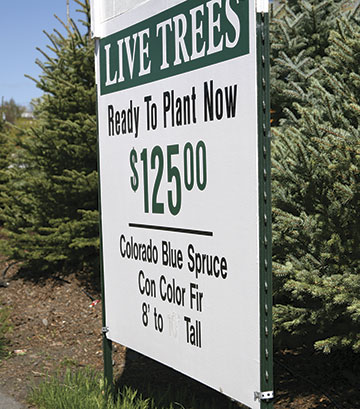 Grown and out the door, my farm is home to a couple dozen trees I've fallen for over the years. Some of them are now HUGE! Thought to protect homes from evil, it's no surprise we want them indoors with us. Outside greenery, brought inside, is the centerpiece of our holiday season.
The worship of trees goes back to the time of the earliest Pantheists. (Pantheism is the worship of nature.) Integrated into our holiday customs are early Christian and Jewish practices, Roman traditions, medieval pagan rituals, and Victorian nostalgia. Germans introduced Americans to the Christmas tree (tannenbaum), but they weren't the first to believe that evergreen trees represented eternal life because of their perennial green color during winter. Ancient homes were decorated with boughs and the tops of trees turned upside down to entice the spirit of nature inside for prosperity and good health.
Cut, faux, or alive—what's your centerpiece this year? Having tried them all, I can make a convincing argument for all three. For every Christmas tree cut, two are planted. With over a million acres set aside to grow Christmas trees, one acre provides the daily oxygen requirement for some 18 people, but there's just something sad to me about that lifeless hulk slowly turning brown out the back door. And I can't for the life of me envision Pan, the god of woods, fields, and flocks, coming into my home to play his flute for my faux tree, even if it is an "eternal" tree.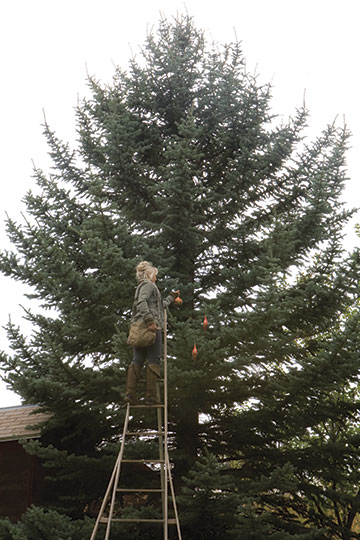 Check out www.livingchristmastrees.org, a Portland, Oregon-based company that's been in business for over 20 years delivering full-size Christmas trees and then planting them at schools, churches, and parks after Christmas.