Baby, it's cold outside! With temperatures at zero and the windchill factor scheduled to be in the negative twenties, we're all noticing where the cold is creeping in. Hubby is home installing that storm door we've been meaning to get to all fall and my dad is out hanging plywood to the milking parlor and hay barn. Our animal shelters were built with their openings facing east because our winds always come from the west, but the winds are coming cold and fast from the east like they never do … go figure.
And me, well, I'm also finding ways to avoid the chill. Christmas shopping. For cold weather attire none-the-less, and perfect for any farmgirl …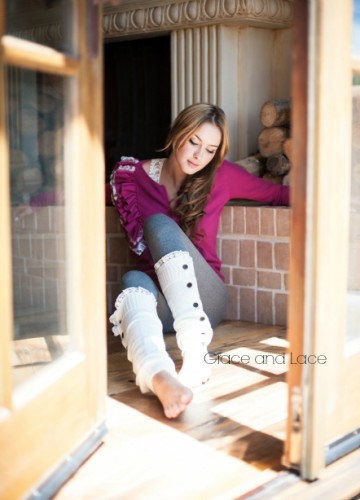 Handmade, cozy leg warmers. Love them! And it's a beautiful story. Owner of Grace and Lace, Melissa, was moved by the loss of her infant daughter to get busy with her hands, thus evolved a line of hand-knit items for sale. I mean, how cute are these?
And this tiny pair? I can think of a few farmgirls I know that need a pair of these. Precious! Thanks to Melissa for sharing her story and her fabulous knitting skills.