When Stella's school asked if I'd head their décor committee for their annual fundraising auction, I was tickled pink. Decorate, merely DECORATE, for a party and not have to do all the other party logistics? Sign me up!
Soon after, I scored this awesome pile of …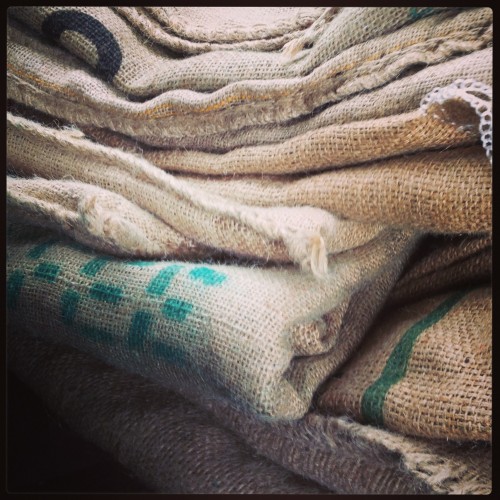 burlap sacks. This photo doesn't do this score justice—two dozen humongous burlap coffee bean bags. The super-cool part is they have all kinds of funky-looking logos from Brazil and Guatemala and all the other fabulous places where coffee beans are grown. So of course I plan to use quite a few of them to decorate for our upcoming auction.
But.
I have so many, I get to use some for home décor also. I have a few ideas up my sleeve, but I'd love some suggestions … ???  Too-much-burlap is kind of a dreamy "problem" for a farmgirl to have, wouldn't you agree?