Something like a century ago (okay, 40 years, but back then THIS stage of my life seemed like a century removed), I spent two summers on a fire watch tower scanning the horizon for forest fires. I still have my binoculars, so during our farmgirl slumber party last weekend, I taught my grandgirls how to use them. They were enthralled and spent hours "glassing" the world beyond what the naked eye can see.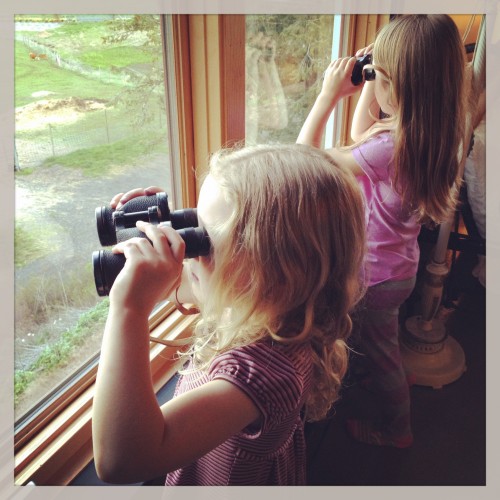 Is it any wonder I perched my office on the tippy top 4th floor of our facility so I could continue to see forever? (It's a serious addiction once you've indulged.) See my cows in the distance? You know, some people watch hummingbirds; I observe cow behavior. I spy!!!! I do. Fires? None yet:)
My tower was 100 feet tall so I made fast friends with the fact that HAVING to go up and down stairs many times a day keeps heart surgeons at bay. You could say that each and every time I snoop, I've earned it. I climb up and down our stairs about 30 times a day.