"I Love My Farmers Market" is a summer-long celebration sponsored by American Farmland Trust.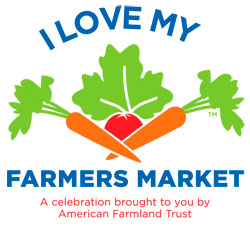 American Farmland Trust is the only national non-profit dedicated to saving America's farmland (5 million acres to date) and keeping family farmers on their land. The land that family farmers cultivate to grow fresh food for our families is disappearing from under their feet. One acre of farmland has been lost to unchecked development every minute of every day in the U.S. At that rate, all the farms at your farmers' market could be wiped out in less than an hour.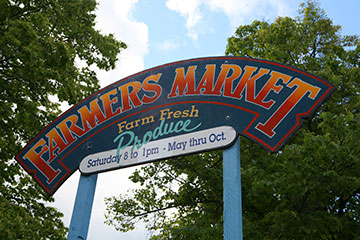 Farmers' markets provide a vital link from farmers to shoppers. AFT's I Love My Farmers Market Celebration works to raise national awareness about farmers' markets. Participants pledge dollars they intend to spend at their farmers' markets each week, then the Top 100 most celebrated markets will receive a special logo honoring their achievement, AFT's "No Farms, No Food" gear, and recognition on the Celebration's website.
Pledges can be cast at LoveMyFarmersMarket.org. And, if you make a donation to American Farmland Trust during the I Love My Farmers Market Celebration, AFT board member Tom Gallo will match it dollar-for-dollar, making your gift go twice as far to help family farmers.
Here's my husband, Nick, and son, Brian, in 1996 manning our Farmers' Market booth in 1996. Markets are such a great place to launch your farm dreams—mine were a tad elaborate as it turns out:)