In the next issue of my magazine, we're using a photo of one of my most precious heirlooms—my mother's favorite—Jewel Tea dinnerware, collected piece by piece in the 1950s with credit rewards from Jewel's household products delivery service.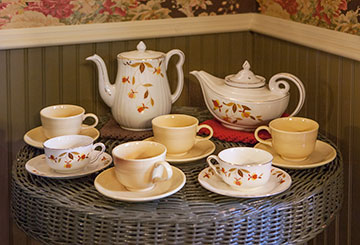 Jewel Tea was founded at the turn of the century in Chicago by Frank Skiff with just $700, a horse, and a wagon.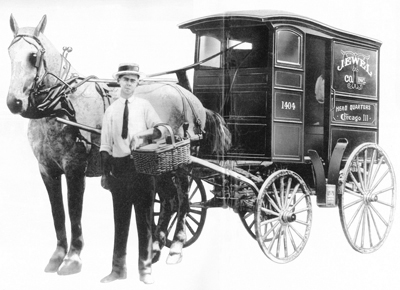 Frank sold coffee, tea, spices, and dry goods to area housewives. By the 1930s, Frank had turned his single delivery wagon into the Jewel Home Shopping Service, with a fleet of door-to-door salesmen in Jewel Tea vans who hawked groceries, cleaning supplies, clothing, cookware, tools, and more to housewives across the country.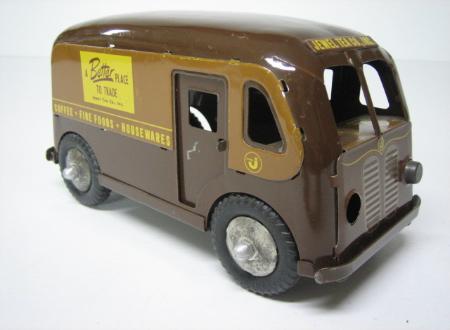 Jewel gave premium coupons with each purchase; when you had enough coupons, you could order any of the "premium items" from Jewel's catalog, one of which was the Autumn Leaf china pattern. My mother collected two sets, one for everyday use and one for Sunday and holiday dinners, that came into the house piece-by-piece over the course of several years. As a little girl, I could see that the Sunday set was extra-special because it still had the lovely golden edges that had been worn off on our everyday set.
I also remember many an hour carefully pasting Green Stamps into a booklet and daydreaming of things to come from the S&H Green Stamp rewards catalog.
It was truly the stuff little-girl dreams were made of: pages and pages of color photos of dolls and toys for me and my sister, and everything from knickknacks to furniture and appliances for Mom. Not to mention bows-and-arrows, tools, and more for Dad and the boys, and even a big-ticket trip to Disneyland for the whole family!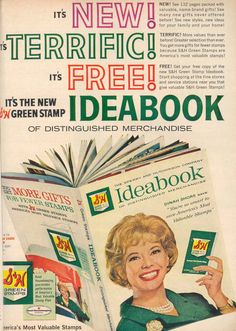 S&H Green Stamps were a staple of American culture from the 1930s until the late 1980s. The Sperry & Hutchinson Company sold their stamps and redemption books to retailers—from supermarkets to gas stations to department stores, every purchase came with a bonus of green stamps. Some retailers offered more green stamps per dollar—one more reason to bring shoppers into their stores. Shoppers collected the stamps and pasted them into stamp books, which could then be redeemed from the S&H Ideabook rewards catalog or at S&H redemption centers, which numbered over 600 by the mid-1960s. Eighty percent of American households collected the stamps. At their height, S&H printed three times as many stamps as the U.S. Postal Service and their Ideabook was the largest publication in the U.S. (I didn't remember that the name of the catalog until I saw this graphic, but now I wonder if all those days of dreaming were firmly lodged in my subconscious, only to pop to the surface when I named my first book MaryJane's Ideabook, Cookbook, Lifebook.)
To a frugal family of seven, these "rewards programs" fueled our fantasies even more than the Sears catalog … we could dream of owning beautiful things without any extra cash outlay. A true reward for shopping smart. And now, precious heirlooms from days gone by.