You know the old saying, "When life gives you lemons, make lemonade." Well, what if life gave you lots of snow instead? You'd make a snowman, of course, or better yet, how about a giant sea turtle?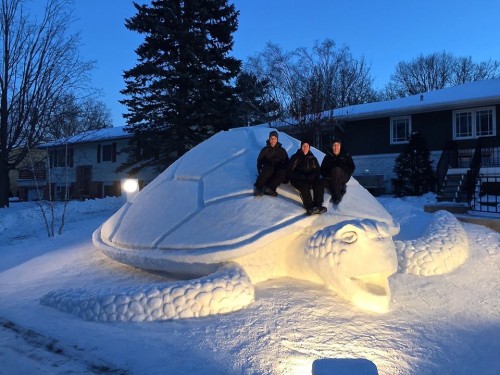 The Bartz brothers from New Brighton, Minnesota, have done just that, right in their front yard, and it's not the first time they've caught the attention of the neighbors. Their tradition began four years ago with the creation of a giant puffer fish, inspired by one that was caught by the brothers while fishing in Florida. The next winter brought a walrus, the one after that a giant shark, and now a 37-foot-long sea turtle stands 12 feet high outside their front door. The boys spent about 300 hours sculpting the turtle with snow gathered from 11 neighboring yards and a tennis court in their neighborhood. The snow was hauled to the garage on a sled to warm up a bit (think perfect snowman snow) before being mounded in the yard and sculpted using only hands and shovels. The sea turtle encourages a steady flow of traffic to the neighborhood, and admirers of years past say this sculpture is the best yet.
The Bartz brothers hope to maintain the sea turtle for another month before allowing the inevitable return of spring to melt it. They plan to continue on with their sea creatures theme for a bit, and then they might enlist the help of their fans to decide what's next.