I was astonished, amazed, bowled over, and yes, downright blutterbunged when I opened an unexpected package the other day from Magnolia Pearl's Robin Brown. Robin had remembered that I admired a hat I'd seen in one of the gorgeous photos from our Magnolia Pearl feature in the Oct/Nov 2013 issue of MaryJanesFarm.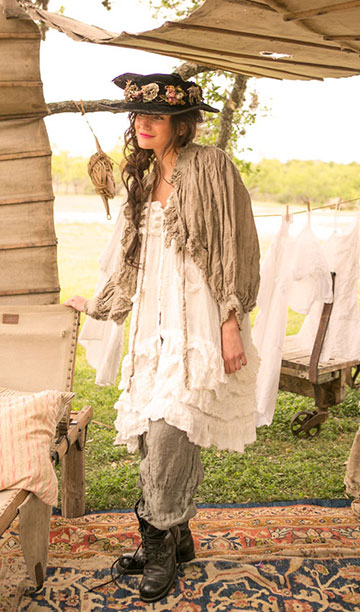 In the box was that very same, gorgeous, handmade, vintage, well-worn hat, along with a lovely note from Robin: "I've loved this hat for many, many years, but I have not worn it in a long time. I'm gifting it to you because you like it and will be gorgeous in it."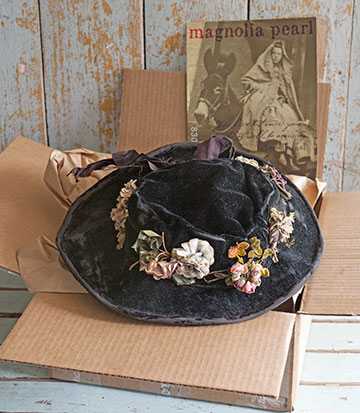 Needless to say, I'm pleased as punch, tickled pink, happy as the day is long, jumping for joy, on cloud nine! Thank you, Robin!!!
If you haven't yet discovered Magnolia Pearl's one-of-a-kind clothing, you're in for a treat. In the middle of Texas Hill Country, Robin "Pearl" Brown has created a magical recipe she calls Magnolia Pearl. With a dash of inspiration from a grandmother known for her delicate handmade lace and intricate quilts; an eye for antiques from her other grandmother, who owned "the most eclectic antiques shop in San Antonio"; a spoonful of enchantment from her interior designer great-aunt; and a heaping cup of encouragement from her artist parents, Robin has whipped up a style that's uniquely her own—part Victorian splendor, part hippie chic. With her love of vintage fabrics and finds, each of Magnolia Pearl's layered and embellished garments is handmade and hand-embroidered, making every one a unique work of art. Visit Robin's truly gorgeous website, MagnoliaPearl.com for a whimsical journey through the fun, funky, flamboyant style of a life lived in layers.
And if you haven't seen our feature on Magnolia Pearl, you can still buy a copy of the "Turning the Page" issue in our Back Issues Bundle #10.