About an hour north of my farm, folks celebrate Christmas all year long.
You would, too, if you lived in a place called Santa.
Yep, nestled in the hills and forests of the Idaho Panhandle sits a tiny town named Santa.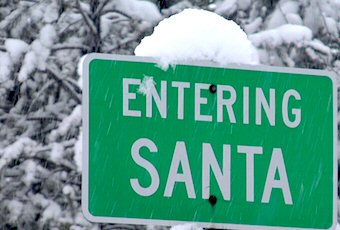 But Santa, Idaho, isn't the only town that rustles up the holiday spirit year-round. How about
Santa Claus, Arizona, Georgia, and Indiana
Snow, Idaho
North Pole, Alaska
Silver Bell, Arizona
Eggnog, Utah
Christmas Valley, Oregon
Holly, Washington
Christmas, Arizona, Florida, Michigan, and Mississippi
Shepherd, Montana
Elf, North Carolina
Mistletoe, Arkansas and Kentucky
Bethlehem (this one's in 18 states)
Also, nearly all of Santa's reindeer have towns named after them. (Not to mention the 36 locations with "Reindeer" in their names.)
Rudolph Ohio, South Dakota, Tennessee, Texas, and Wisconsin
Dasher (Creek), Georgia
Dancer (Flats), Texas
Prancer (WAIT, where's Prancer? He must have been out on a mission when they handed out towns!)
Vixen, Louisiana
Comet, Arkansas, Missouri, Montana, North Carolina, Ohio, and Virginia
Cupid, Iowa, Nebraska, and Oklahoma
Donner, California, Florida, and Louisiana
Blitzen, Oregon
You'll find all these and many more in William D. Crump's The Christmas Encyclopedia.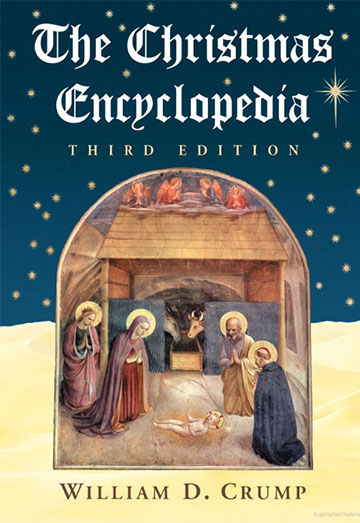 Packed with everything Christmas and now in its third edition, the encyclopedia includes Christmas carols and hymns; customs; historical events; popular symbols; plants; celebrations; Christmas movies, plays, books, and TV; and more. A perfect early present for anyone who loves everything Christmas.