By jiminy, I love bicycle baskets.
Now, that's farmgirl romance.
There's just something special about the artistry of a beautiful basket hanging from handlebars, weaving whimsy with function (a bushel of flowers adds an extra dose of fabulous, to be sure).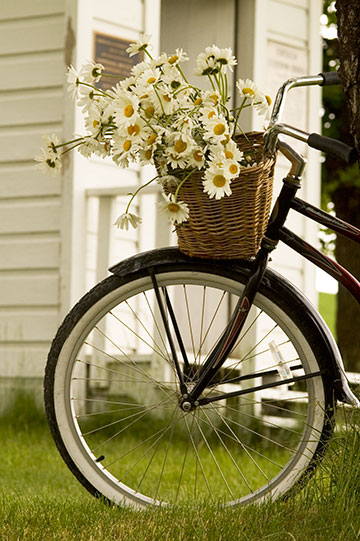 Poetically speaking, a bicycle basket represents that divine intersection where pretty meets practical, and the two fall madly in love.
So, imagine my delight when I discovered a line of bicycle baskets that incorporates yet another strand of sublimity into the weave: humanitarianism.
Trifecta, baby.
True to its name, House of Talents is a marketplace designed to employ and empower talented people who are living in poverty in Ghana, West Africa. One of these artisans' finest lines, as I mentioned, is bicycle baskets. Here is one of their creations, modeled by the lovely Atlanta Bicycle Chic:
Launched by Ghana-born Kate Herzog in 2009, House of Talents is Kate's way of giving back. Kate, whose family struggled with poverty, pulled herself up by her proverbial bootstraps. She taught herself to read at age 10, earning a degree in Economics from the University of Ghana Legon, and pursued a career in consulting and luxury resort management (read more of Kate's inspiring story here). According to the House of Talents website, "Kate has always had the desire to give back to her community in Ghana, and after completing her MBA at the University of St. Thomas, was finally able begin bringing this dream to reality by founding House of Talents. Kate hopes that through this work, her journey will come full-circle and those she helps will lend a hand to others they encounter."
House of Talents connects artisan groups in developing countries with consumer markets worldwide to promote self-development through economic and social advancement in rural communities and cities.
You can help by treating yourself to a bicycle basket (what better way to kick of the summer cycling season?). These beauties are handcrafted by master weaver Joseph and his community in northern Ghana. The only real challenge will be deciding which shape and color will best complement your bike …