In the spirit of the season, today's post is all about cranberries. You know, those tasty, nutrient-dense, little red morsels … you most likely passed them (or passed them by—folks usually love 'em or hate 'em) around your Thanksgiving table last week. And maybe you'll enjoy them again at a Christmas feast. Their bright-red hues bring a festive touch to any holiday meal.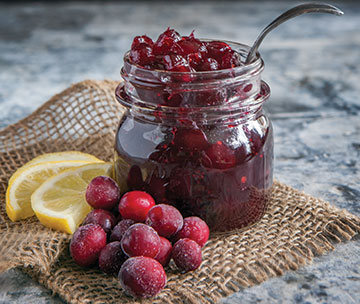 When I think cranberries, I think New England, where many of the cranberries in the U.S. are grown and harvested. I don't think my neighboring Washington state … until now. Turns out, Washington state is the fifth largest cranberry-producing state in the U.S. Who knew?
And cranberries are grown in a unique, almost other-worldly setting called a cranberry bog. According to Cranberries.org, "[Cranberries] can grow and survive only under a very special combination of factors. These factors include acid peat soil, an adequate fresh water supply, and a growing season that extends from April to November. Cranberries grow on low-lying vines in beds layered with sand, peat, gravel and clay. These beds are commonly known as bogs or marshes and were originally created by glacial deposits. Commercial bogs use a system of wetlands, uplands, ditches, flumes, ponds and other water bodies that provide a natural habitat for a variety of plant and animal life."
This gorgeous slideshow of cranberry production in Washington state will make you appreciate these little gems even more. And here's a holiday-inspired recipe to get your creative cranberry juices flowing!
Day-after Thanksgiving Turkey Sandwiches