I was excited to see the 2017 edition of the Vintage Directory, the "Northwest's Guide to Vintage Shopping" with Megan's article, "Glamping with Megan Rae." If you're in the Northwest, look for the Vintage Directory at your favorite vintage shop.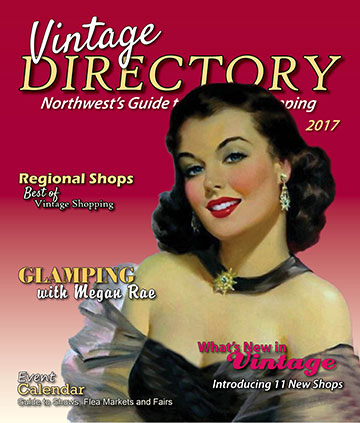 If you hail from other parts, I thought you might enjoy reading Megan's article here:
Glamping with Megan Rae
My mother's mother was glamping far before we decided to start calling it that. The women of her generation were not shrinking violets, and my grandmother was no exception. They were wildflowers, ready to hit the road and live off the land. But at the same time, they saw no reason not to "rough it" in style. They fussed over and gussied up their campsites, giving rise to the glamping concept. I love my mom's stories of my grandmother at camp. With her picnic table adorned in a freshly laundered and ironed tablecloth and a bouquet of hand-picked flora, she would stoke the fire, sauté veggies brought from her gardens back home, and grill the catch of the day from the water hole around the bend.
Fast forward 50 years, and we're still drawn to that floral vase we found while antiquing or those vintage salt and pepper shakers that match the camper perfectly. It should come as no surprise—it's in our genetics to prettify our little plots, whether at home or at the campsite. It's been done all along. Now it just has a definition.
Glamping, defined: It's the juxtaposition of grit and glam, rugged and reined in, burlap and lace. We've ditched the notion that camping is daunting, just as we've jettisoned the misconception that going "out there" means you have to give up creature comforts like a billowy-soft bed, stamped linens, and bubble baths. Proud of our natural panache, we dare to decorate our gypsy world of trailers and tents in our favorite happy colors. We dust off our prom dresses and hang them right next to our lanterns, loving the way the light dances through the lace. What's more, we eat chocolate with abandon in the open air, trading traditional adventuring terms like "harsh" and "tough" for our own renditions of comfort, playfulness, and style. Of course, glamping also means we get to own our own campers if we're so inclined. We're capable of backing them up or changing a flat tire as easily as we change a nail polish color!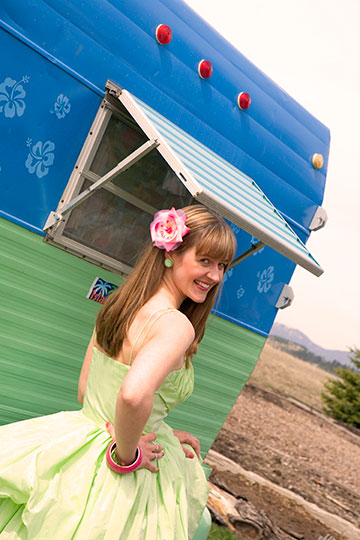 As I said, glamping is in my genes, making its way from my grandmother to my mother, and on to me. But, back before choosing a color palette for a camper was her thing, my mother, MaryJane Butters, worked for the U.S. Forest Service for many years. She'd spent her childhood camping in the Utah outback, so when it came time to venture out of Dodge, she headed straight for the mountains. She was ready, equipped with all of the knowhow she needed to get by, so she sought out a solo stint in a lookout tower watching for fires. Afterward, she worked as a wilderness ranger, which meant moving into a wall tent year-round, 27 miles in from the nearest dirt road. Her stories of winters in those days are wild; her tent would be walled in by five feet of snow each year, insulating her through bitterly cold months. Working for the Forest Service, it didn't take her long to realize that, while she could build a fence with the best of them, she also loved an immaculate, perfectly-organized tool shed and didn't mind carrying a crisp hankie (complete with embroidered edges) in her back pocket.
Shortly before I was born, Mom decided it was time for modern conveniences and bought the farmstead where I grew up. As her daughter, I might mention that her idea of conveniences were not entirely conventional. Luckily for me, though, her how-to-it-ness allowed her to run water to the house and plumb the entire thing herself. I never did get a flushing toilet in my childhood (an outhouse sufficed), and we bathed in a clawfoot tub in the kitchen closet. But we did have hot running water, and every seasoned camper knows what a luxury that is!
Within our little outpost, there was always a home-cooked meal atop a beautiful tablecloth. The woodstove kept us warm on winter nights while we enjoyed a good book or family board game. The rest of the seasons were spent roaming outdoors, and it wasn't unusual for my brother and me to bring home bouquets of wildflowers for the table.
Needless to say, I grew up building a strong sense of DIY and a desire to be outdoors (with a few feminine frills for good measure). Thanks to my mother and my grandmother before her, glamping was destined to become a big part of who I am, and I imagine my daughters will follow suit.
Glamping is a grand tradition among women of all walks of life, and it's regaining popularity in our modern age for good reason. We really aren't that far from what our grandmothers once knew. For so many of us, the primal need to be outdoors is as real as it was in generations past, grounding us in an increasingly chaotic world. Our urge to nest and provide are also deep-seated connections to our adventurous ancestors. It's so satisfying to channel these impulses into our campsites, arranging everything just-so and preparing fabulously fire-roasted meals for those we love. Glamping, I think, also fulfills our need to accomplish. Pulling a camper across the plains, backing her into place just perfectly, and building a campfire like a pro are skills that remind us how very capable we are.
Each summer, as I'm loading up my red and teal vintage finds into our camper, making sure all the right tablecloths and doilies are clean and ready to go, I often think of my mom's efforts to raise us ready for the world—the wild world, that is. It makes me wonder if another soul-nourishing component of glamping is the sense that I can get it right. Mom sure did. The simplicity of the task allows for perfection, or something close to it. For one weekend of glamping, I don't have to think of the laundry that needs to be done, so I can fully enjoy my perfect set of tablecloths. I don't have much to sweep, I don't need to mop, and I can't vacuum, so I can take the time to hang the lights I want for the perfect campsite ambiance. And I really don't have much else to do other than create a campfire meal, so I can get that right, too. I mean, let's be real, food always tastes incredible eaten outdoors, so whatever I cook while glamping seems perfect. Then, there's time to just be, to enjoy family and friends, to share the experience with your children (no homework!), and to relax quietly by yourself—things we never seem to have enough time for in our busy lives. If you're an avid glamper and have been at it for some time, you're nodding right now. You know. So, happy trails! I wish you glorious journeys, lovely linens, and the perfect salt and pepper shakers.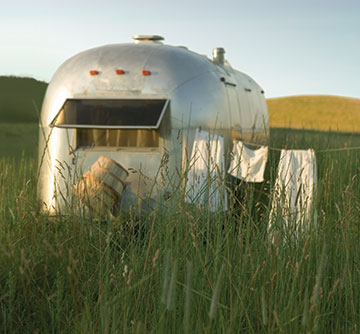 If you haven't glamped yet, I bet you're daydreaming about what you might do with that set of dainty antique teacups you found last week, or the splashy color you could paint that old wicker chair that's been sitting out in the rain, or how good it would feel to make that first pot of tea on a campfire you built yourself. True? Well then, I believe you're ready to give it a try. Glamping is calling your name. You don't have to have a camper, so don't let that stop you. For many years, we pitched a tent, and those were terrific times. Your pretty tablecloth can still grace a portable camp table, and a welcome mat for your tent entrance is nothing short of wonderful. If it's warm enough, you don't even need the tent. A starry sky makes the most divine backdrop for a summer glamping trip.
Down the road, if you set your heart on the perfect color scheme for a camper, you can find a fixer-upper and doll her up (now that's a sense of accomplishment, let me tell you). At last, you'll feel free to paint the kitchen cabinets fuchsia. Tuck those antique teacups inside, and create a special corner for that wicker chair. Just remember that you're encouraged and supported by all us girls who are in love with glamping. You can always find a gaggle of us gabbing on the Farmgirl Connection. If ever you have a question or an idea that needs some sculpting, pop on by and let 'er fly.
Cheers to the journey! No matter where you go, it'll be positively glamporous, guaranteed!
Megan Butters Rae is the daughter of glamper extraordinaire, MaryJane Butters, and writes for MaryJanesFarm magazine. MaryJane Butters is the author of Glamping with MaryJane and editor-in-chief of MaryJanesFarm magazine. Both Megan and MaryJane have spent countless hours glamping and antiquing together.