Ewwwuuuuuu. I had no idea critters like this existed in anything other than an Indiana Jones movie or National Geographic special. Discovered in a piece of firewood next to our chicken coop, reactions at the farm …
… varied. "Never-Squeamish-Kim" wanted to eat them. "Desperately-in-Need-of-Farmgirl-Bootcamp-Alicia" said she was going to throw-up, "Adventurous-Ace" wanted to save them for a fishing expedition, "Curious-Curtis" put them into a jar with cornmeal to observe them during his lunch break, but I wanted to know the NAME of these gi-normous, prehistoric-looking maggots.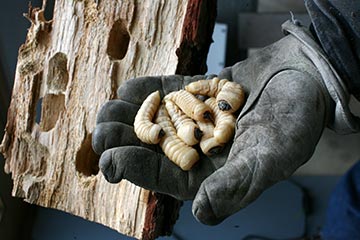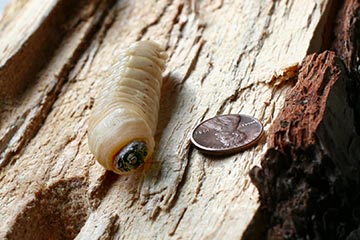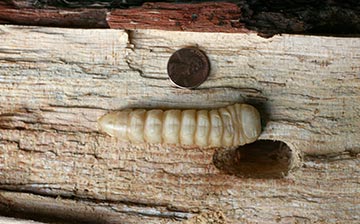 The verdict? Ponderosa Pine Borers. I had no idea we were sharing our firewood with … gourmet food. Known for consuming exotic ethnic dishes, Travel Channel's Anthony Bourdain has eaten sheep testicles in Morocco, ant eggs in Puebla, a raw seal eyeball, fermented shark in Iceland, and a whole cobra—beating heat, blood, bile, and meat—in Vietnam. (However, he says the most disgusting thing he's ever eaten is a Chicken McNugget.)
Put the skillet on Never-Squeamish-Kim! If Anthony can eat an unwashed warthog rectum in Namibia, we can eat pine borers.
Just curious. Has anyone ever eaten a porcupine?