What, you didn't know?
You mean to tell me you've never properly celebrated this upcoming important holiday?
That's okay, I forgive you. But in order to show proper penance, I'd like to you to memorize these whisker-ocious facts (and maybe post a photo in the comments of the most highly groomed bearded man in your life).
World Beard Day is celebrated on the first Saturday of September (mark those calendars).
You may think this is a new holiday, but, my mustached friend, you'd be wrong. There is actually evidence that the Danish Vikings had their own Beard Day as far back as 800 AD. And you know those Vikings—they really knew how to party.
In Donksburg, Sweden, they banish all of the un-bearded to the forest to spend a day and a night (probably thinking about what they've done!). Their effigies are burnt to a satisfying crisp in the village by those who have the very best in facial hair. Seems a tad bit harsh … but also humorous.
In southern Spain, the locals enjoy a boxing match between a bearded man and an un-bearded one. The bearded one always wins. Of course, he's the only one allowed to be armed, so things are a bit swayed in his favor.
It is considered extremely disrespectful to shave on World Beard Day. Don't even think about it! Prefer your hunk of burning love to be smooth skinned? Best have him shave the day before and ignore a little stubble.
If you or the significant other in your life can't quite wrap your brain around (or can't quite grow) a fully impressive set of whiskers, perhaps a mustache is the place to start. He can even participate in the highly competitive The World Beard and Mustache Championships, located this upcoming September in Northern California. There are all sorts of categories to sign up for, from the humble Dali Mustache to the Imperial and the Freestyle Goatee. Check out these past winners and prepare to be inspired by follicle greatness!
Whatever your preference, opinions about facial hair are varied and sometimes quite amusing. Check out these quotes about the fabulous beard:
"I have the terrible feeling that, because I am wearing a white beard and am sitting in the back of the theatre, you expect me to tell you the truth about something. These are the cheap seats, not Mount Sinai." ~ Orson Welles
"You know, I just tend to grow my beard out for 'Parks and Rec.' As an actor it's always easier to shave or cut your hair for a role, but it's hard to put fake hair on or grow hair for a role. When you look at pictures of me, the longer my hair is, the longer my facial hair is, that's just the longer I haven't gotten a job." ~ Chris Pratt
"I will never shave off my beard and moustache. I did once, for charity, but my wife said, 'Good grief, how awful, you look like an American car with all the chrome removed." ~ Rolf Harris
"A man's face is not a rich person's lawn; you are wasting resources if you devote that much energy to trimming your beard, sideburns, or mustache just so. Nor is a man's face the woods; there need not be the tangled weeds, shrubbery, and wildlife/eggs benedict that get ensnared in them." ~ Ellie Kemper
"A decent beard has long been the number one must-have fashion item for any fugitive from justice." ~ Craig Brown
"Kissing a man with a beard is a lot like going to a picnic. You don't mind going through a little bush to get there!" ~ Minnie Pearl
Well, have I convinced you? Raise your pint of ale high to this most manly of all holidays. (And be prepared to share your styling gel. Just sayin'.)
None of the men in my family are sporting beards this summer, but the ear of fresh sweet corn I had last night for dinner had a kind of beard …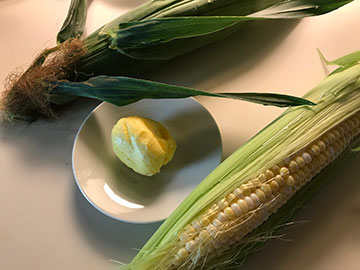 and my bees are "bearding" (forming "beards" on the outside of the hive during hot weather to keep the hive from overheating).