Every Christmas, we take an extended break at MaryJanesFarm. Sure, it means we miss out on holiday sales but you know what, our employees need a break. We need a break. We've been closed for commerce the later part of this past week and we'll be closed this coming week until the New Year. I grew up in an era and a state that enforced what was called "Sunday Closing Law." Nothing, I mean nothing was open for commerce on Sundays, not a gas station, nothing. Same with Christmas Eve and what is now called Black Friday. Ever since I left home at age 18, I've used my holiday downtime to sort and organize memories, remember, live in the past. Yesterday, while I was in and out of my kitchen, I …
… sorted through all my Christmas decorations that I haven't used in years, as well as old posters and enlarged photos that were used for one of our family reunions.
Here's a great find: my sis Judy (the sweetest, dearest woman on earth), baby brother Rex (who I love with all my heart), and our mother, who we regret isn't with us anymore to be part of our festivities.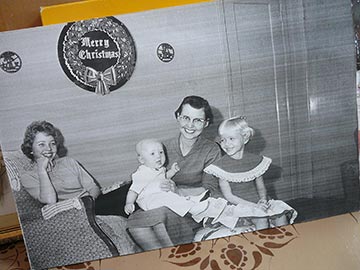 Later today, after we've opened our gifts, I'm going to let my grandgirls pick through my old ornaments to hang on their tree. The ornaments will officially become 2nd, and in some cases, 3rd generation decor.
I even found the original artwork for my first food packaging from some 20 years ago. Back then, we offered only falafel, split pea soup, and hummus. In order to come up with a colorful package (long before photo shop and digital cameras), you had to employ an artist who used actual colored pencils or paints. The artwork would then go to a printer who created a plate with added text. I didn't find any of our original actual packaging though, just the artwork. Maybe I'll unearth that next Christmas!
I hope your day today with family and friends is restful.