There are countless recipes and ways to use up Thanksgiving Day leftovers, but there's always a clear favorite among them: the classic turkey sandwich. Beyond the deliciously simple turkey, mayo, salt, and pepper sandwich on a dinner roll, here are some of our favorite ways to serve up leftovers in a sandwich.
Sandwich #1: Turkey & Gravy
This sandwich is just a step up from the classic turkey & mayo. A broiled hoagie roll with cheddar cheese and turkey all topped off with savory turkey gravy sprinkled with fresh minced parsley.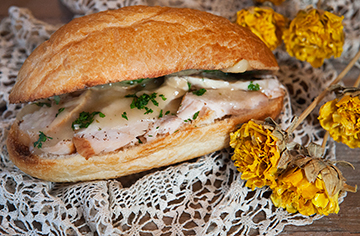 Sandwich #2: Turkey Cranberry
This sandwich combines whole wheat bread with cream cheese on the top slice, cranberry sauce on the bottom slice, and filled with turkey and broccoli sprouts.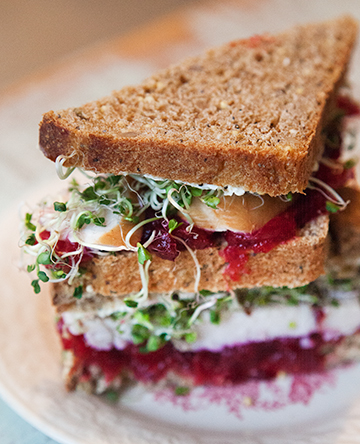 Sandwich #3: Turkey & Swiss
The simple name doesn't do this sandwich any favors. It packs a lot of flavor in a small dinner roll. First, the roll is broiled with Swiss cheese on the top half, then it's slathered with a combination of horseradish and mayonnaise on the bottom half, then it's topped with fresh spinach, caramelized onions, and hot turkey.