Farmgirl Sister of the Year, Winnie Nielsen (Sister #3109, aka Red Tractor Girl) recently took fabulous trips to Europe, with stops in Iceland and Norway. She writes,
"Red Tractor Girl seems to get around to the weirdest places, but always finds a red tractor waiting! Here I am in UllKistan (WoolKistan?), where wool is king! You know you are in the right place because one of the few trees in Iceland is sporting a knitted sweater out front! How about Red Tractor Girl becoming a shepherdess? This tractor seems up to the task of a large Icelandic sheep farm. How about that beautiful wooly coat of the Icelandic sheep? No wonder they have shops full of beautiful knitted items and skeins of yarn! I wanted to sit on the tractor, but figured that would be pressing my luck a bit. I mean, how would you explain Red Tractor Girl to people who barely speak English?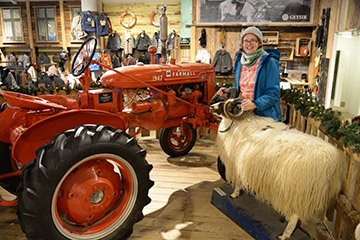 The cowl on my neck was knitted from the wool I learned to spin last winter in a drop-spin class for my Expert Level Knitting Badge. It came out all different widths and degrees of tightness, but the ladies in the yarn store encouraged me to make it into something. Voila! A knitted cowl with "artisan" yarn. All wonky, tight, loose, and weird, like trying to knit rubber bands and fuzz. However, it turned out pretty nice in the end, and it was nice and thick and oh so warm.
As you know, the red tractor love started when I was 4 and my dad gave me a little red tractor toy from a consulting job he did for International Harvester in Chicago in 1955. I played with that thing for years and years. When I joined the MJF Sisterhood, I wanted some name that aligned me with some sort of farm identity, and the idea just popped into my head. I have never actually driven a tractor or know anything much about them. It is all a bit of fantasy in my head, but now I identify with red tractors as my farm connection. It has made for some darling MJF swap gifts, which I cherish and love!!"
Below are a few stunning photos from Winnie's trips. I don't know where these actual photos are from, but maybe Winnie will tell us in the comments section below …