Good morning sunshine! … from the 20th floor of the historic St. Francis Hotel in San Francisco. Come on out and play the day away …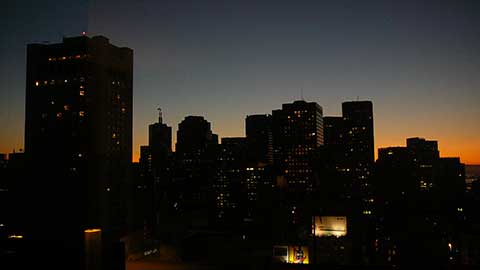 … a charming world awaits you.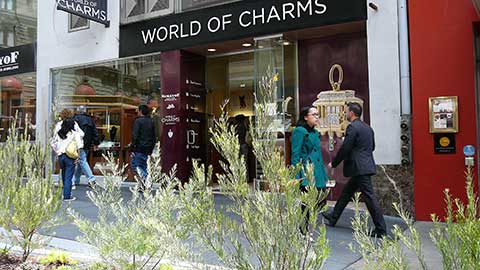 Daughter Meg, her husband Lucas, and I traveled to San Francisco to brainstorm new bedding designs for our Fall 2012 beds. I've been asked HOW we create our beds, so here goes. (And no, we didn't even step foot in Saks. Some things are just off-limits.)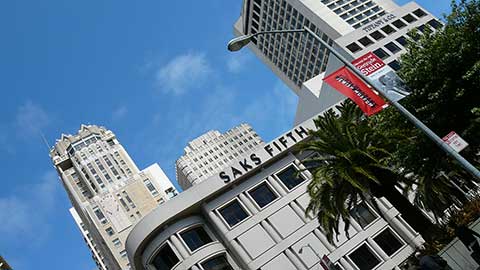 So, let's start where we end up.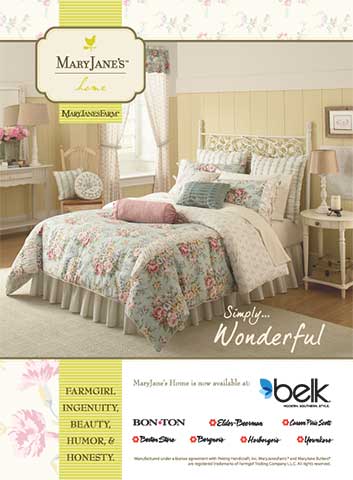 Long before our work and ideas become an actual BED, for us it starts with the tapestry of a tight-knit family, the Lo's. (Portrait really IS a tapestry of tiny, perfect needlepoint yarns.) Dickie and Annie Lo, born and raised in China, started creating and manufacturing bedding when their four children were very young. Today, three of their children work in their family-owned business, traveling back and forth between their homes and their family-owned work facilities in China and San Francisco.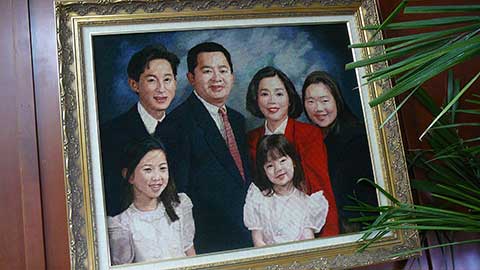 Sandy, pictured below (bottom left in family tapestry) brings her newborn son to work, identical to how she was raised. "We never had time to get into trouble when we were teenagers. Every day after school, we came to the office to do our homework while our parents worked." Her office's finishing touches include a crib, playpen, and a floor littered with toys.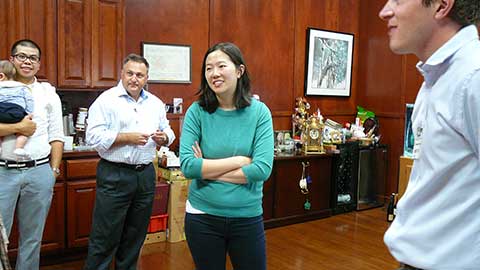 Gorgeous tapestries are showcased throughout their offices.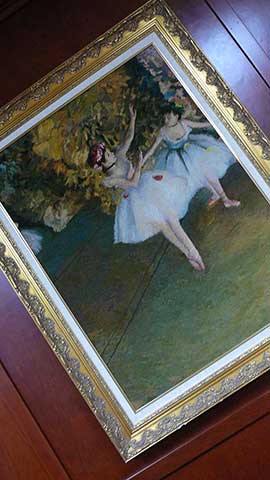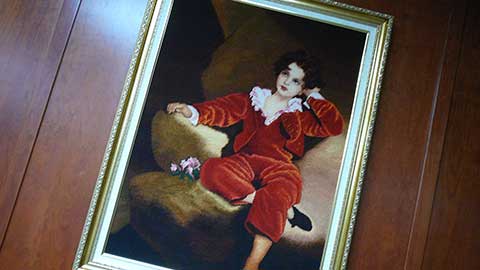 Sandy and Clyde (below) are the two that my SIL, Lucas, works with on a weekly basis, sometimes daily, as the two of them hammer out all the details for getting our line of bedding into stores. Clyde and his brother, a medical doctor, both natives of Arkansas, have created the most amazing concept for health care in Arkansas, http://www.arfamilyhealth.org/. If you haven't heard of one of their clinics, make sure you pay them a visit. Clyde is a great story teller/entertainer with a heart as big as a washtub. There's always lots of laughter when Clyde is around. Here's a description of his organization: Arkansas Family Health Foundation is the nonprofit corporate philanthropic organization that funds ARcare, a community healthcare network providing affordable medical and dental care to residents in rural Arkansas. We also offer transportation services to your ARcare doctor or dentist appointment, an outreach literacy program, and an early learning center for ages 5 and younger. Through our 34 ARcare Clinic locations, we encourage economic growth by creating new job opportunities. Opening in 2012, ARcare Education & Wellness Center and Pediatric Medical Clinic will help combat obesity, provide food for the hungry, and eliminate illiteracy across the Arkansas Delta. Through our new ARcare Cancer Center, our patients will have the best cancer treatment close to home. We offer several ways you can help support the rural communities through a one-time donation, payroll deduction, volunteer opportunities, participation in the ARcare Shakespeare Festival or our Buy a Brick campaign to honor a loved one.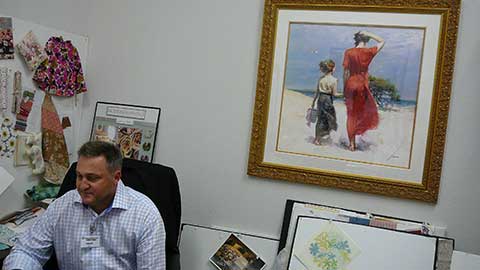 Mark Grand, their CEO, grew up in Brooklyn and is a walking encyclopedia about all manner of worldly things, from Shakespeare to baseball stats. Super nice guy.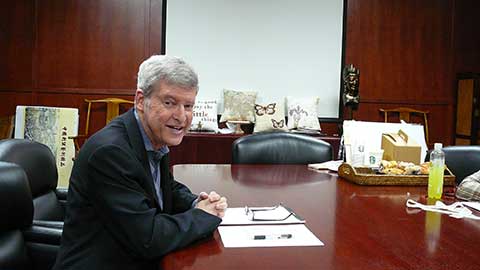 Now we're heading into their lead designers office, Carol. Note the Twilight poster (autographed), and near the door handle sits one of my CERTIFIED FARMGIRL bumper stickers, welcoming all who enter.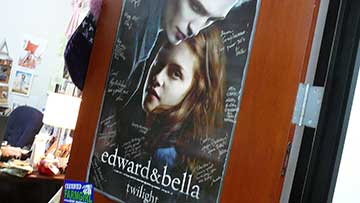 Princess Carol.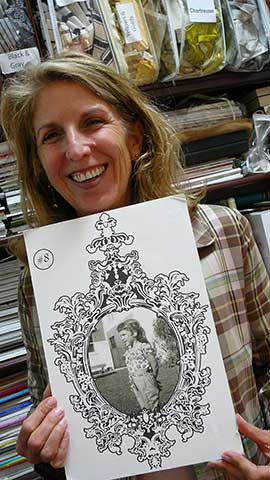 Sisters, please note her Sisterhood certificate on her office wall, next to movie stars and sleeping cats.
Becky, who works with Carol is an avid organic urban gardener. Because she doesn't have bees, one of her daily chores throughout her growing season is to play zucchini matchmaker, hand-pollinating her squash blossoms, one by one.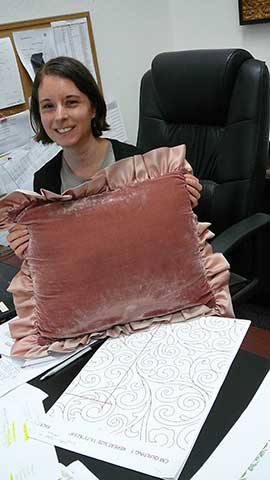 Mike King, CFO is such a sweetheart. I know, his smiling face gives that away.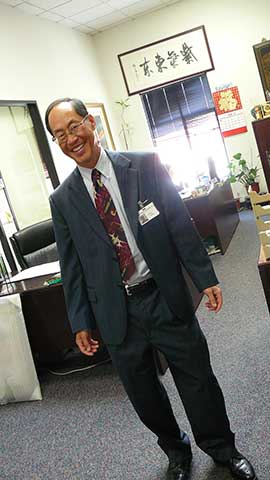 With camera in hand, I wandered around taking photos of the rest of the crew hard at work.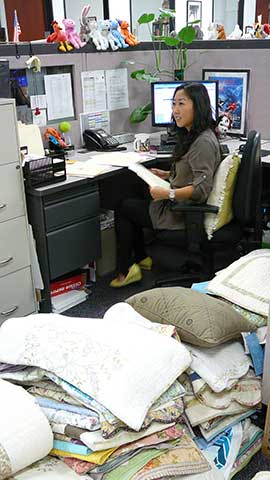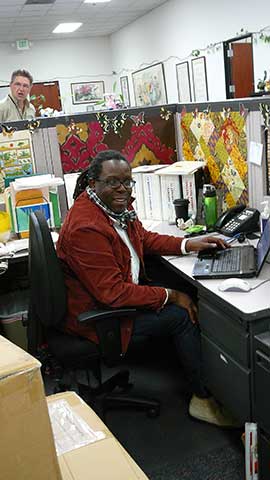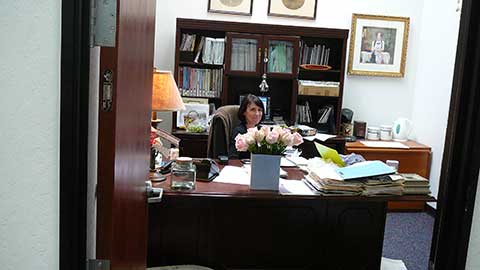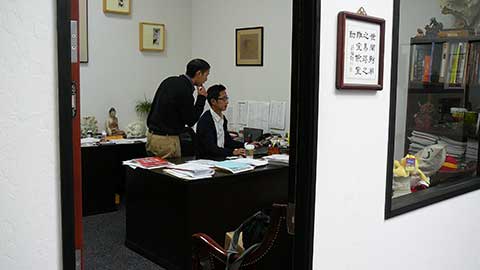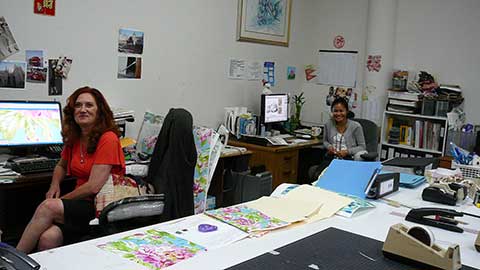 This woman is turning an embroidery into computerized instructions for the mill in China.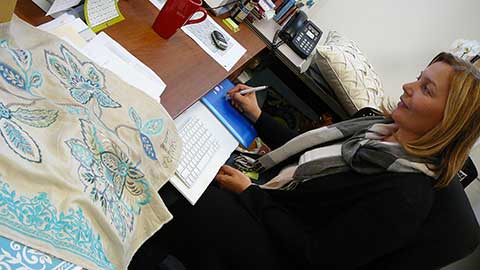 Fabric swatches are everywhere.
Along with some clip art, our ideas get turned into inspiration boards.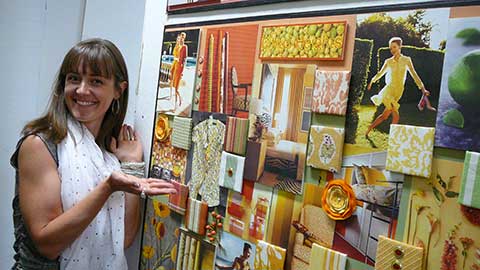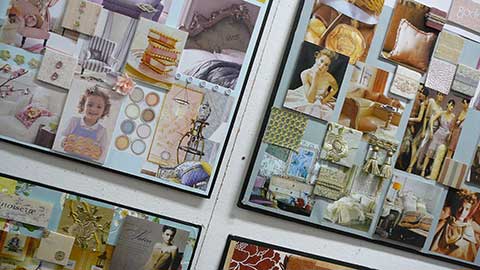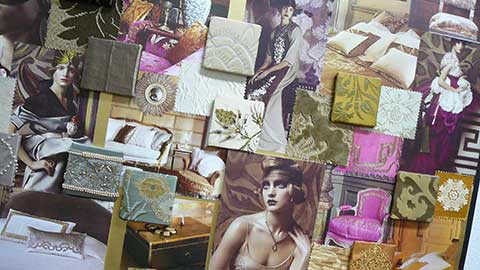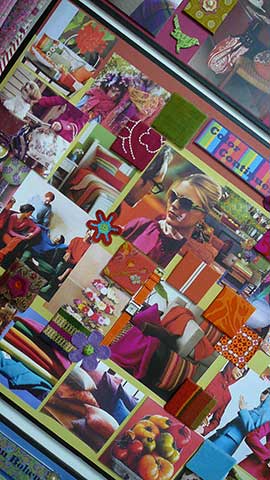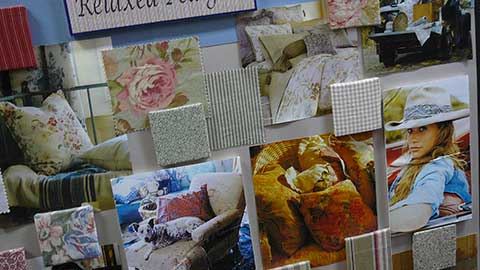 I have "Road Trip" as a theme for an upcoming issue of MaryJanesFarm.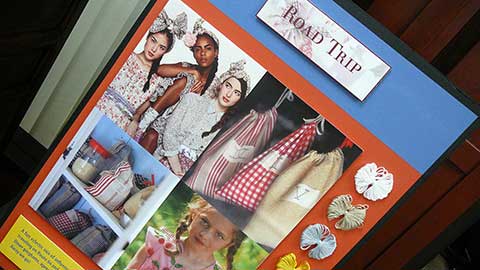 Next, we narrow our ideas down into actual fabrics, laces, and colors, so we can brainstorm bed names.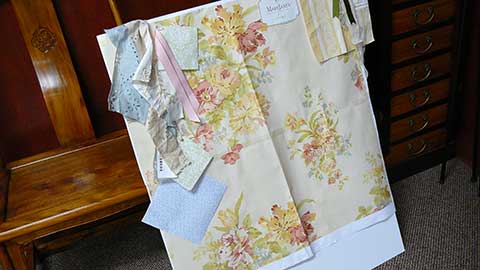 Sometimes, it's the finishing touches that turn a bed into a winner. (This is my Dora bed, named after a suffragist.)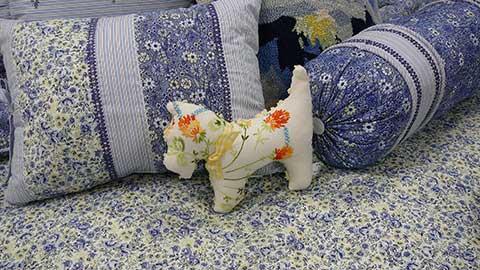 Meanwhile, back in the conference room, fabrics and laces are turned into numbers, graphs, and forecasts.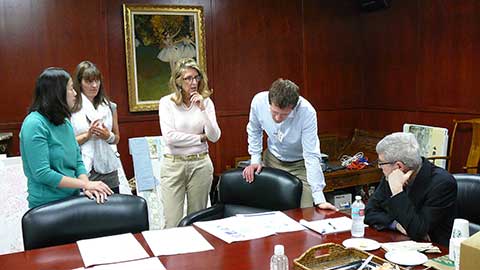 Once the actual beds are manufactured, they're brought to San Francisco and warehoused until they end up on a truck, delivered to a store near you. The Lo family also supplies gift linens (things like guest towels, kitchen towels, and decorative pillows) to all the old-fashioned family-owned Mom & Pop gift stores (including our two retail stores) throughout the U.S. It's quite likely you have something in your home that is the result of their hard work.