Hey Tommy, thanks for your kind letter and awesome CD. The photo of you in Ireland rocks! My line of organic backpacking food is what started it all, and I am proud to say we are still mixing, packaging, and shipping it out right here on the farm.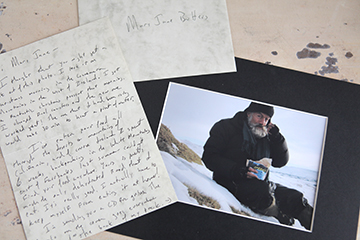 Hi MaryJane –
I thought that you might get a kick out of this photo. I took it on Christmas Morning in the Connemara Mountains in the west of Ireland. I got a fantastic Christmas present that morning. I changed fuel canisters and the new one worked great! The one that I had been using would take 30 minutes to heat a pint of water.
I've eaten your food all through the deserts and mountains of California, and of course, Ireland. I spent 6 weeks backpacking in the white mountains east of Fairbanks last summer – couldn't find your food anywhere. Yours is pretty much the only dehydrated food that I eat. It's really good. I actually have to keep myself from eating it at home!
I'm sending you a CD for grins. The banjo on the cover goes everywhere strapped on the back of my pack. Take care and thanks for caring so much about "real" food!
Tommy Dahill