Do you know that feeling you get when you're strolling through the farmers' market in, say, late September, and you spy a piece of fruit that is so fresh, so RIPE, that your mouth instantly waters remembering a taste you haven't tasted for a year, so you pick it up, inhale its fragrance in a deep breath, close your eyes, and sink your teeth into it?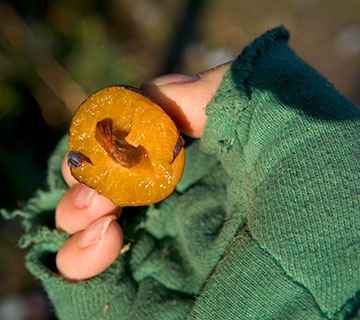 That's the sensation I felt when I got wind of Smallknot.
What's Smallknot??
It's a stroke of genius: bringing investments back home to our communities. Instead of investing in amorphous "out there" companies and projects, Smallknot wants us to be able to see our money at work improving the places we live and helping our neighbors establish thriving small businesses.
This is a concept that's so ripe I can taste it.
"Small business finance is broken," the Smallknot team explains. "The financial system just isn't built for the smallest businesses that make our neighborhoods special. The places we spend our lives. Small business lenders can't make enough money from Mom 'n Pop unless they squeeze them to death on interest rates or just ignore them altogether. We think there's a better way."
So, how are they making it happen?
The Smallknot site is connecting people like you and me with small, independent businesses in our neighborhoods that are looking to expand, renovate, or open up shop for the first time.
"Fair and reasonable financing options simply aren't available for most of the small businesses that make up your neighborhood," says Smallknot. "Rather than relying on cash advances and high-interest credit cards, we help businesses raise funds directly from the communities that love them."
Granted, the bottom line isn't big profit. When you fund a business on Smallknot, you get paid back in kind. That means you get real returns in the form of tangible goods, services, discounts, and more. It's almost like an old fashioned bartering system. Give a little, and get perks that you can see, taste, feel, and experience. Plus, Smallknot helps build connections between businesses and customers that will last for years to come.
Setting root in New York City with an eye on national expansion, Smallknot is working exclusively with small, independently-owned businesses. No franchises. No big box stores. "We're a funding platform for the businesses that make up the fabric of our communities and contribute to their individuality, character, and diversity."
We can help spread this novel notion nationwide. If you're a small business owner, visit the Smallknot website and fill out this form to get the ball rolling. If you know of a small business that could benefit from a Smallknot campaign, refer them and the Smallknot team will "happily reach out to them."
Go on, take a bite …