My Sweet Dreams store on Jackson Street in my hometown of Moscow, Idaho, needed to move to make room for a parking lot. I kid you not. We owned the building but leased the land, and when our landlord passed away, the new owner wouldn't budge in his decision to clear the entire block. But remember my post about doubling the size of my Coeur d'Alene store recently and the huge parking lot outside our door that's being converted to a park? Win some, lose some. All the work we'd put into the grounds weren't lost entirely. Every single bush, tree, bulb, and plant was lovingly dug up and replanted somewhere else. Our landscaping endeavors had won awards! Sigh.
And do you remember the colors from my Winnie the Pooh poster? Well, guess what? I had painted my little store the exact same colors. After trying to sell the building (backyard mother-in-law quarters anyone?), we decided to move it to the farm to occupy the spot where my Winnie the Pooh tree stood … without bees. A new kind of swarm was about to happen.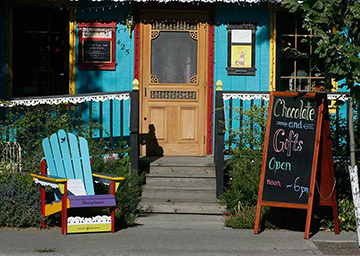 We readied a spot by cutting down our one tree and then pulling out a thicket of small plum trees with the tractor. We brought in truckloads of gravel and poured a concrete pad.
Here's my SIL, Lucas, knee deep in the muck of it.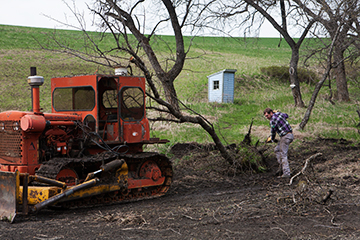 As each tree we pulled out with the tractor was then pulled down the road to our debris pile, my little farm was bathed in a dust storm.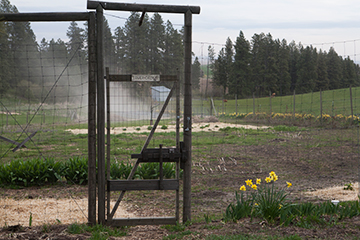 Walker had a free pass to lounge the day away.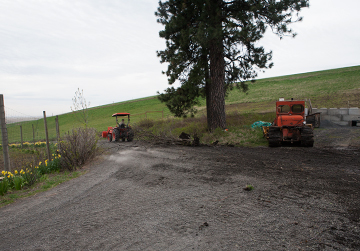 Still lounging. Guard dog? At least he's regal looking.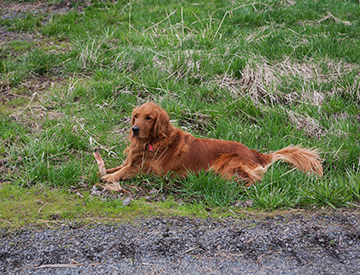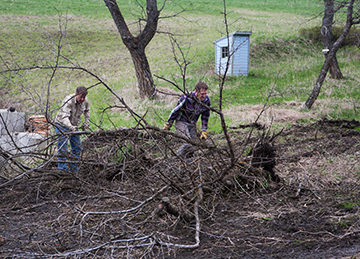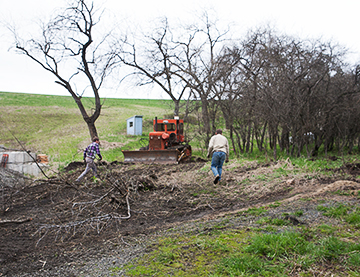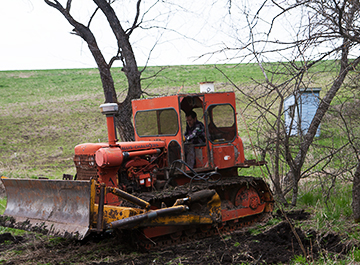 Sweaty and dirty, but happy.
Looking good, Pa said!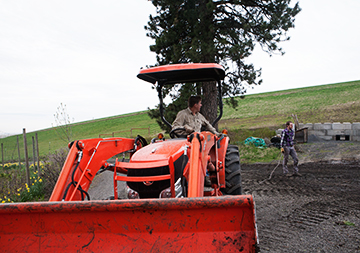 Tomorrow, we head to town to lift the building onto a flatbed. Stay tuned.